Need help drinking more water? My Lemon Cucumber Mint Ginger Water will solve that problem! This homemade flavored water recipe is easy to make and so refreshing, let's get into it!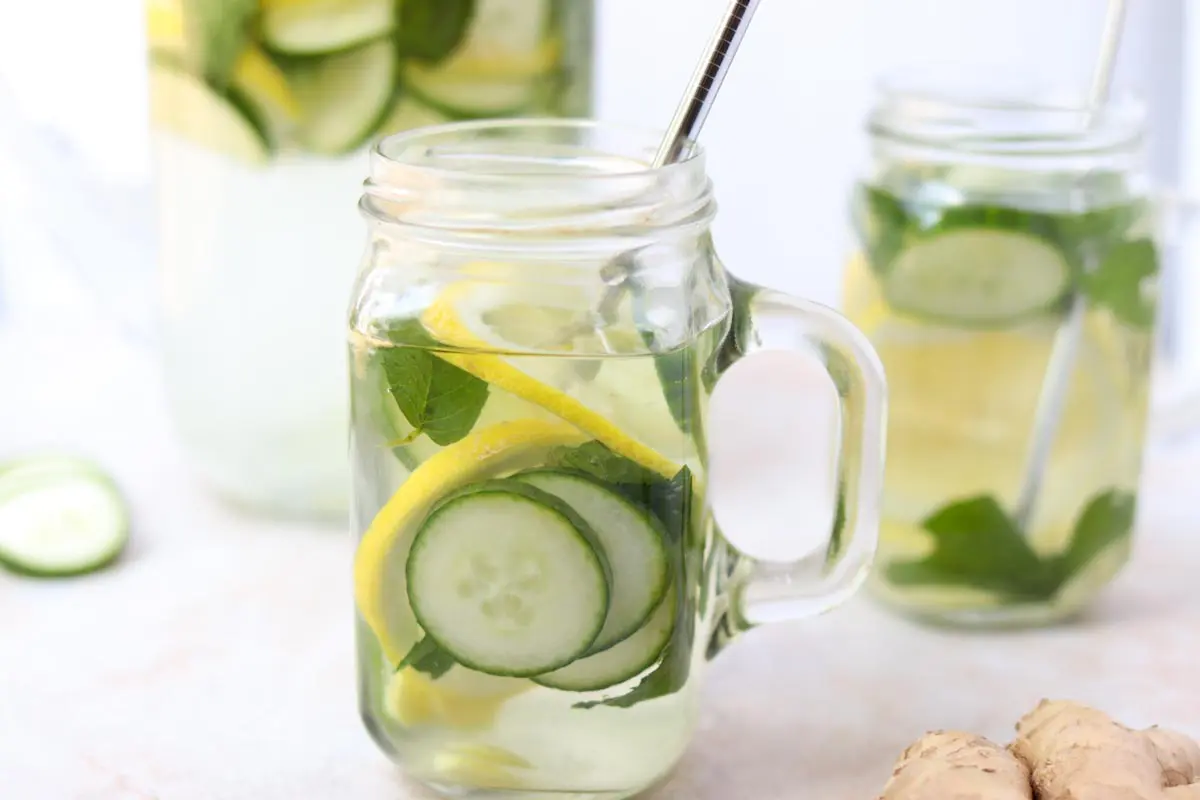 The mint in our garden is thriving....to the point, it's starting to resemble a mint field!
I usually go out and grab a few sprigs of mint to add to my lemon water and refill the glass as I go throughout the day.
While I love my lemon and mint water combo, I need a change-up! So, I thought I'd experiment by adding ginger and cucumber.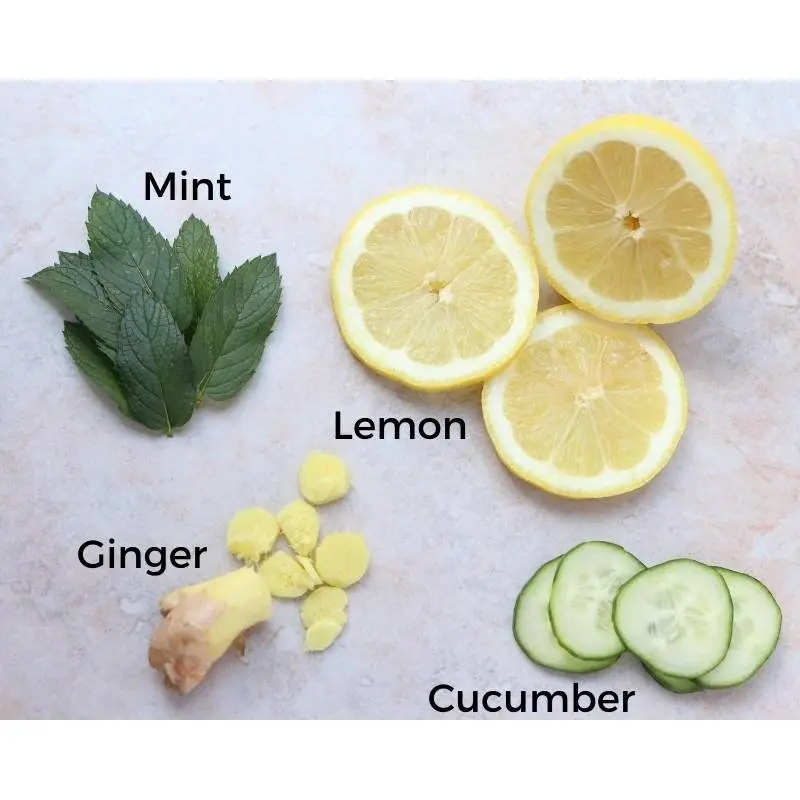 The verdict? DELISH. You have the spice of the ginger, the citrus of the lemon and refreshing flavor of the cucumber and mint. You can even snack on the cucumber slices as you go through the water!
Back in my dietetic internship, many of my patients struggled with drinking enough water. Adding lemon or other fruit and herbs was often my recommendation as an alternative to help folks get enough water since water is so crucial in the body's ability to function optimally.
What are the Benefits of Drinking Water
Water is vital to life. In fact, our bodies are 50-60% water! So the benefits of water are numerous! It's needed to support digestion, bowel regularity, removal of waste, lubrication of joints and regulation of body temperature through sweating and breathing.
So, how much do we need? Typically, women need 9 cups and men need 12.5 cups of water a day. But it will vary from person to person due to activity level, altitude, medical condition, etc.
A good rule of thumb is to check your urine. If it's light yellow, then congrats! You're hydrating well! If it's more of an amber color or darker yellow, well my friend, it's time to start increasing your water intake.....and time to start making some pitchers of infused water to help ya out!
How to Make Flavored Water
Ready in just four steps: muddle, slice, pour and refrigerate!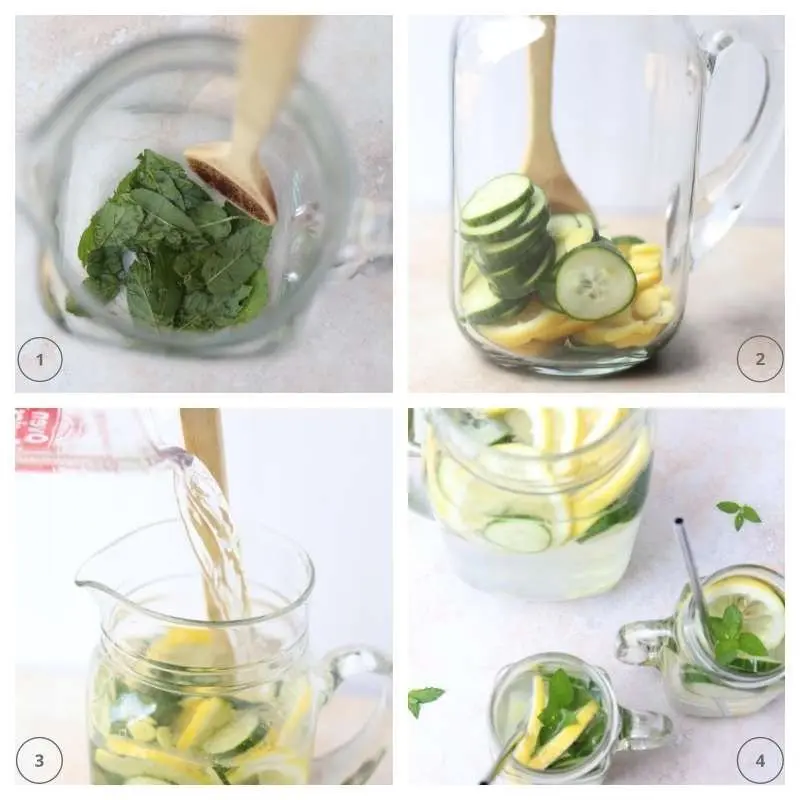 Muddle your mint leaves and chopped ginger with a spoon to help release the oils. It won't make the mint leaves look pretty, but it's worth it for that flavor!
Add the sliced cucumber and lemon slices. Don't muddle or squeeze the lemon slices; otherwise, they'll overpower everything else.
Pour 8 cups of water into the pitcher and stir well.
Refrigerate for at least 2 hours to allow the fruit and herbs to infuse the water. Enjoy!
Make sure to wash any of the fruit or herbs before mixing it into the water. You can use a 1:1 ratio of vinegar to water or good ol' water and soap.
If you need more infused water inspo, here's some other ideas to add flavor. Mix different fruits, herbs and spices for endless flavor combos:
Citrus: lemons, limes, oranges, grapefruit
Herbs: Mint, basil, lemon balm
Fruit: berries, cucumber, kiwi
Spices: ginger, cinnamon sticks, cloves
Is This a Detox?
No! You'll see a lot of folks promoting infused water as a helpful "detox" or weight loss tool. However, this is not backed up by science. Our bodies have their own natural system to detox aka our liver and kidneys. Hydrate your body well and let it do its natural process.
Drink infused water because you love it or find it helpful in meeting your water needs - not because someone told you it would help heal a medical condition that truly requires medical treatment. If you want more information on the buzz around detox diets, check out this article by the Acadamy of Nutrition and Dietetics.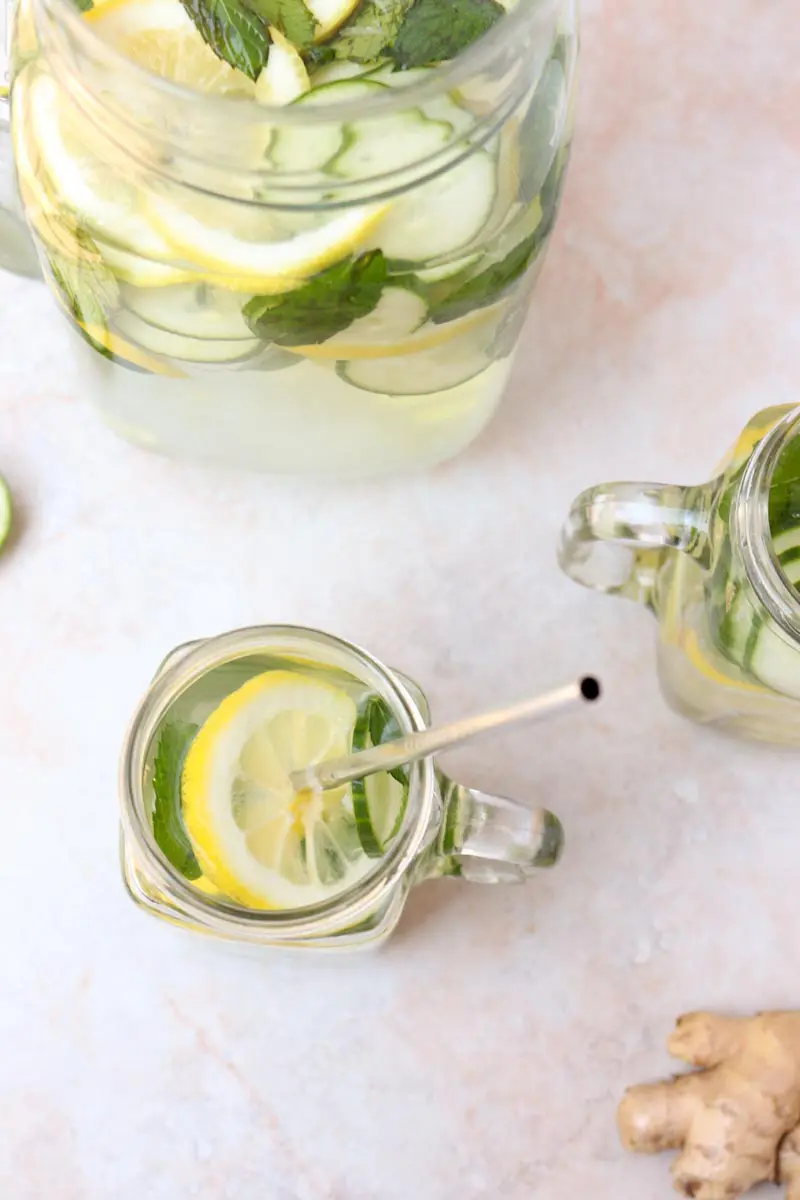 Recipe FAQ & Tips
How long does it take for the fruit and herbs to infuse the water?
I recommend giving a pitcher that holds 8 cups of water at least 2 hours. Taste test at the 2-hour mark and give it more time if it's needed or remove the fruit and herbs if the flavors are strong enough.
Can I make this the night before and let the pitcher of water sit overnight to infuse?
Absolutely! However, I would remove the lemon slices in the morning so that the water doesn't become bitter due to the rind of the lemon.
How do I get the mint and ginger flavors to infuse well?
Muddle them with a spoon before adding the rest of the ingredients. I love the spiciness of the ginger, and I'll even poke it with my metal straw after pouring it in a glass to get even more ginger amazingness!
How long does a pitcher of water last?
You can store the pitcher of water for up to 5 days. However, the flavors may become too strong as the herbs and citrus sit in the water. Once the water reaches the point of poignancy you desire, take out the chopped herbs and citrus with a colander.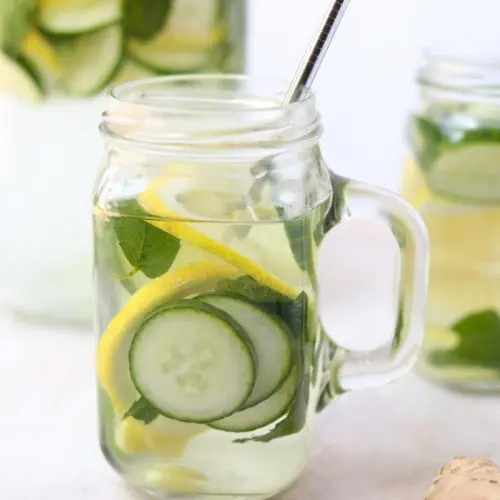 Lemon Cucumber Mint Ginger Water
Lemon Cucumber Mint Ginger Water is a refreshing citrus and ginger infused water recipe & super easy to make at home!
Print
Pin
Rate
Ingredients
1

large lemon thinly sliced

½

cucumber sliced (about 1 cup)

¼

cup

packed mint leaves

3

tablespoons

chopped ginger

8

cups

water
Instructions
Peel and chop 3 tablespoons ginger.

Bruise the mint leaves and muddle the chopped ginger with a spoon in a glass pitcher to help release the oils.

Add the sliced lemon and cucumber and pour 8 cups of water into the pitcher.

Allow the fruit and herbs to sit in water for 2 hours before serving and stir well before pouring.

Enjoy in mason jars, cups or take it with you on the go in a water bottle with reusable staws!
Notes
You can make the recipe the night before and let the water pitcher sit overnight. However, I would recommend removing the lemon slices in the morning to prevent the water from turning bitter due to the rind.
To help the mint and ginger infuse well, it's key to bruise the leaves with a spoon and muddle the chopped ginger.
The infused water can be stored for up to 5 days in the refrigerator.
Nutrition
Calories:
9
kcal
|
Carbohydrates:
2
g
|
Protein:
1
g
|
Fat:
1
g
|
Saturated Fat:
1
g
|
Sodium:
13
mg
|
Potassium:
63
mg
|
Fiber:
1
g
|
Sugar:
1
g
|
Vitamin A:
76
IU
|
Vitamin C:
8
mg
|
Calcium:
17
mg
|
Iron:
1
mg
(Nutrition values are calculated by third-party software and an estimate that can vary based on product brands and cooking methods.)
f you ever make a recipe, tag me on Instagram @monicanedeff.rdn I love seeing your creations and sharing them with the community! Please comment and give this recipe a star rating if you've made it as it greatly helps support this blog and my small biz, thank you!