Citrus flavors of lemon and lime paired with fresh, crisp veggies, garbanzo beans and chopped mint create one flavorful quinoa salad! Serve in the summertime for a crunchy side salad at your next BBQ or picnic or just enjoy as a filling snack thanks to the fiber and protein.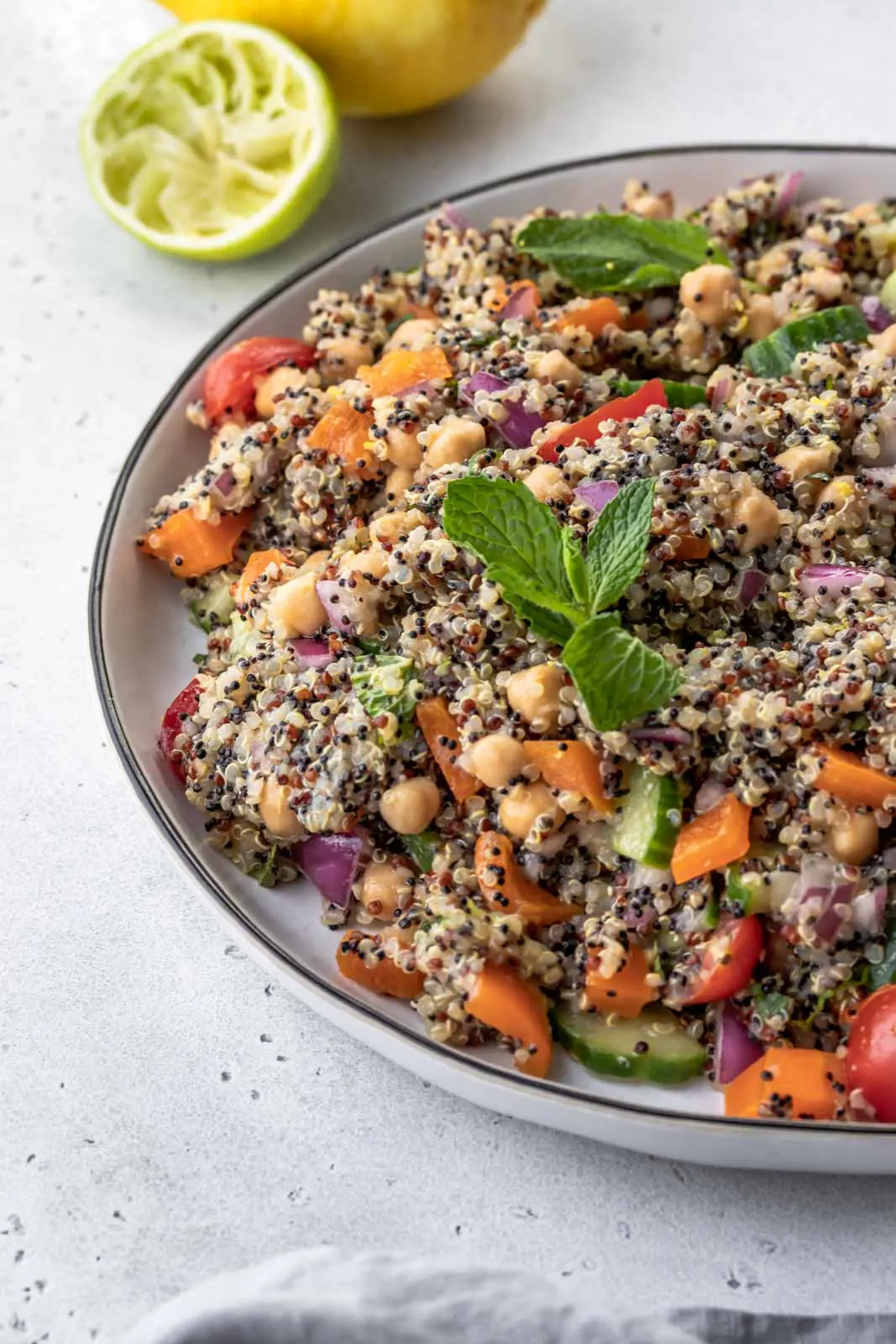 The Perfect Summer Quinoa Salad
One of my favorite summer flavor combinations is mint + citrus. They compliment each other so well! The refreshing mint with the bright citrus flavors makes anybody's taste buds jump for joy.
One of my favorite summer desserts is a citrus and mint sherbet. It's creamy and tart, yet has a refreshing hint of mint from a homemade mint syrup - so good! Add a little zest for a touch of texture and color and you got one heavenly summer dessert.
I could seriously make mint and citrus anything and love it!
Do you have a favorite summer flavor combo? Let me know below! I can always use inspiration for future recipes!
How to Cook Quinoa
If you're new to using quinoa, a key step to making it flavorful is cooking it in broth. Quinoa is very plain, so it needs some flavor boosters! In this recipe, we use vegetable broth to add flavor and salt.
The quinoa will take on the flavors of whatever it is mixed with, similar to tofu. So, the zesty citrus and mint will be noticeable.
Cooking Tips:
Cook covered to allow the steam to help the quinoa cook quickly and absorb the liquid.
You'll know the quinoa is done cooking when all the liquid is absorbed.
Allow the quinoa to sit for a bit after cooking to finish absorbing the liquid.
Vegan with Plant-Based Protein
Quinoa is a great source of protein if you're vegan or don't eat much meat. Quinoa provides all the essential amino acids, which we need to get in our diet since our bodies can't produce them.
It's a great pantry staple to have on hand and use in a variety of ways from salads, wraps, soups and more. I love cooking up a pot of quinoa to have for the week ahead to bulk up meals with protein and nutrition.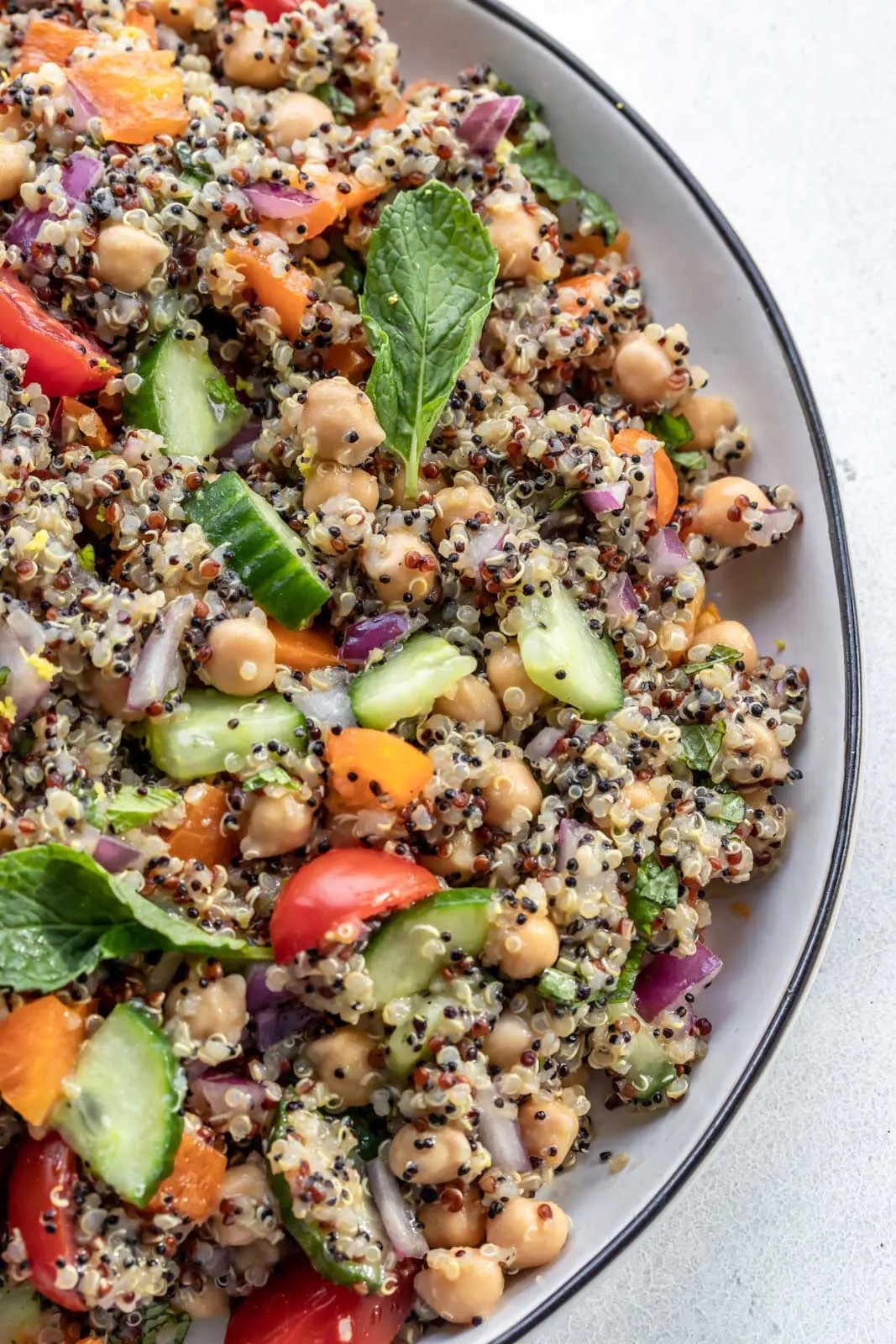 So, if you're looking for a vegan salad with plant-based protein, this is it!
Recipe Instructions
Only a few steps and you got a delish Mediterranean quinoa salad!
Start by cooking the quinoa. While the quinoa cooks, chop up your veggies and mint. I use one small .5 oz containers of fresh mint.
For prep, it's easiest to add everything in a large mixing bowl before serving it up on a large platter. So add the chopped veggies and mint along with the cooked quinoa and drained garbanzo beans.
I like to zest the lemon and lime now, right before I'm about to juice them for the vinaigrette. So now just give your mixing bowl a good mix-up and move onto the vinaigrette!
Whisk together the oil, vinegar, garlic, lemon and lime juice, sugar, cayenne pepper. I love adding a pinch of cayenne! It adds just a touch of spice.
Taste for salt and pepper and mix the vinaigrette into the quinoa salad.
I like letting the salad sit in the refrigerator for an hour before serving to help the flavors blend together, but it's not necessary. Serve the salad chilled and give it a good stir if it's been sitting for a while to help get the flavors remixed.
Serving Suggestions
Pair this quinoa dish with my spinach and feta turkey burgers and fresh watermelon for a summer cookout - Mediterranean style!
In the summertime, I love easy and healthy salads that I can have already prepped to have throughout the week or take with me to gatherings. This zesty salad recipe is perfect for either option. The quinoa salad doesn't take long to put together, and it's super simple to throw together. Plus, it's packed with plant-based protein!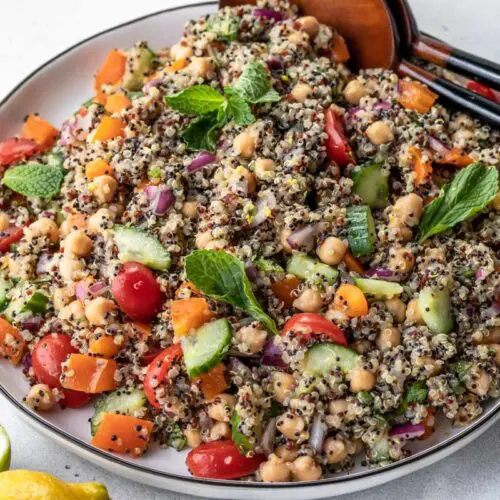 Zesty Quinoa Salad with Mint
Minty & Zesty Quinoa Salad is the perfect summer salad or side dish with refreshing mint and bright citrus flavors paired with crisp veggies, garbanzo beans and chopped mint - vegan and full of plant-based protein!
Print
Pin
Rate
Ingredients
For the Quinoa Salad
2

cups

vegetable broth

1

cup

quinoa

1

cup

quartered cucumber

1

cup

chopped bell pepper (any color)

1

cup

sliced grape tomatoes

½

cup

diced red onion

1

15 oz

can drained garbanzo beans

.5 oz

mint leaves chopped (about ⅓ cup)

zest

of one lime and lemon
For the Zesty Vinaigrette
⅓

cup

olive oil

2

tablespoons

red wine vinegar

2

minced garlic cloves

1

tablespoon

lemon juice

1

tablespoon

lime juice

1

teaspoon

sugar

pinch

of cayenne pepper

salt and pepper to taste
Instructions
For the Quinoa Salad
Bring the 2 cups vegetable broth to a boil in a pot and cook the 1 cup of dry quinoa for 15 minutes. Once all the liquid is absorbed, the quinoa is done cooking. Set aside to cool.

Chop the cucumber, red onion, tomatoes, and bell pepper.

In a large mixing bowl, add the cooled quinoa, drained garbanzo beans and chopped vegetables.

Zest the lemon and lime over the bowl and add the chopped mint. Stir to combine.
For the Zesty Vinaigrette
Whisk together the olive oil, red wine vinegar garlic, lemon juice, lime juice, sugar and cayenne pepper.

Taste for salt and pepper and adjust as needed.

Pour over quinoa salad and mix well before serving chilled.
Notes
Since the quinoa is cooked in vegetable broth, it has a decent amount of salt already. I only add about ⅛ of a teaspoon to the vinaigrette, but adjust it for your tastebuds!
If chilling the salad beforehand, make sure to give the salad a good stir before serving to help the vinaigrette recoat the salad.
Nutrition
Calories:
289
kcal
|
Carbohydrates:
30
g
|
Protein:
6
g
|
Fat:
17
g
|
Saturated Fat:
2
g
|
Sodium:
383
mg
|
Potassium:
400
mg
|
Fiber:
4
g
|
Sugar:
5
g
|
Vitamin A:
1412
IU
|
Vitamin C:
47
mg
|
Calcium:
32
mg
|
Iron:
2
mg
(Nutrition values are calculated by third-party software and an estimate that can vary based on product brands and cooking methods.)