Frothy, steamy goodness is found in this Almond Milk Matcha Latte. Add a sprig of rosemary to compliment the earthy tones of the matcha!
This latte is made with just 5 simple ingredients: unsweetened vanilla almond milk, sugar, almond extract, matcha powder and a sprig of fresh rosemary.
Perfect to sip when you need a cozy beverage to warm you up!
History of Matcha
Matcha is traditionally enjoyed by the Japanese during Japanese tea ceremonies. This ritual of preparing and serving the tea is deeply rooted in Japan's culture.
I've never been to Japan, but if I ever do - I think attending a ceremony would be a must! The ceremony is a true art and a mindful exercise in pouring one's heart into the cup of tea and savoring it.
Types of Matcha
Matcha powder is essentially finely ground up green tea leaves. If you've ever shopped for matcha powder you've probably noticed there's different grades and prices.
The 3 most commonly labeled matcha powders are culinary, premium and ceremonial.
Culinary:

The cheapest and best for baking when you need large quantities of matcha powder. Older leaves are used, which explains the darker, slightly more yellow color compared to the premium and ceremonial grades.

Premium:

Medium in price. The green is somewhere between the culinary and ceremonial in terms of brightness and some find it less sweet than ceremonial grade.

Ceremonial:

Most expensive and most vibrant green due to the leaves used to make the tea being young and bright in color - best enjoyed traditionally as a cup of matcha.
For this recipe, I used the permium grade. However, any grade works!
How to Make a Latte
Ever wanted to make a homemade latte, but don't know how? I gotchu in today's post!
You don't have to have a fancy milk steamer!
If you're like me (with no milk steamer) here's what ya do!
You need:
Heat source
Whisk or frother
That's it (other than the ingredients!)
Start by heating up your almond milk, sugar, matcha powder and almond extract over medium heat on the stove.
Use a whisk or frother to unclump the matcha and to create a frothy foam.
Take the pot off the heat and pour into a mug to enjoy!
OR
If you're looking to spruce up your usual matcha add a sprig of rosemary!
Rosemary Matcha
I know it might sound questionable....rosemary + matcha?? But trust me, it's sooo good!
The rosemary isn't overpowering and adds a lovely aroma and flavor.
Trying to describe the flavor and aroma of rosemary is hard, but you'll notice an evergreen scent with citrus and sage-like notes.
Add the sprig of rosemary once the almond milk, sugar, matcha powder and almond extract are done heating up on the stove.
Take the pot off the heat, add the rosemary and let it infuse into the latte for 5-7 minutes.
Remove the rosemary and you're good to go!
Matcha Flavor Alternatives
If you love uniquely flavored coffees or teas, then you'll probably love the addition of rosemary. You can also swap the rosemary for other herbs, like the ones listed below.
These are herbs add a floral note to the earthy matcha that I personally think goes so well!
Lavender: I'm a big lavender fan, and if you are too, try my

lavender latte

out! Lavender goes well in matcha. You could also add a slice of lemon zest for a touch of citrus if you're feeling it with your lavender and matcha!
Thyme: I find thyme has a slightly sweet flavor and a bit minty, and I think it goes well with matcha. If you want a touch of citrus, try a slither of orange peel along with the thyme and matcha!
Rose hip: If you're a big floral fan, add rose hip buds to your matcha for a delightful aroma and drink!
Another idea: mix them together! Add the lavender and rosemary together or try rose hip and thyme together for a unique matcha blend.
Recipe Tips and FAQs
Can I use a microwave instead of a stove?
Definitely! Heat up the almond milk, sugar, matcha powder and almond extract together in a microwave. Once it's steaming (1.5 - 2 minutes), use a whisk or frother.
How do I make the matcha latte iced?
Follow the recipe instructions as is but only use ½ cup almond milk. The matcha has to be heated up to dissolve and not clump up. Pour the drink over ice and top off with the additional ½ cup almond milk that's chilled.
More Matcha Recipes
Matcha Overnight Oats: Want to add a little caffeine to your typical overnight oats? Add a bit of matcha! 1 teaspoon adds 19-44mg, which isn't too much but just enough to give ya a little morning boost!
Matcha Blueberry Lemon Muffins: Lemon + blueberry is a summer flavor combo that I personally love! Mix in some matcha and you got delish muffins.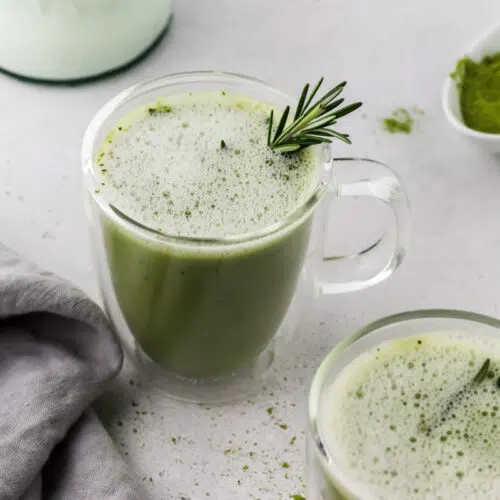 Almond Milk Matcha Latte
Creamy, smooth Matcha Latte made with almond milk and a sprig of rosemary is vegan and full of matcha flavor. Make this latte at home with or without a milk steamer! Serve hot as a latte or cold over ice for a delicious beverage.
Print
Pin
Rate
Ingredients
2

cups

unsweetened vanilla almond milk

1

tablespoon

sugar

2

teaspoons

matcha powder

½

teaspoon

almond extract

rosemary sprig

(optional)
Instructions
Over medium heat, whisk together the almond milk, sugar, matcha powder and almond extract.

Once steaming, take the pot off the heat and add a fresh sprig of rosemary if desired.

Let the rosemary steep for 5-7 minutes before removing from the pot.
Notes
Other herb ideas: lavender, rose hips or thyme - or a combination of either. For a touch of citrus try a lemon or orange peel.
To make the latte iced: use half the almond milk for heating to help the matcha dissolve and then pour the drink over ice and top off with the other half of almond milk from the fridge to help cool it down.
Instead of using a stove, a microwave works to make the latte as well.
Nutrition
Calories:
38
kcal
|
Carbohydrates:
6
g
|
Protein:
2
g
|
Sodium:
1
mg
|
Potassium:
2
mg
|
Sugar:
6
g
|
Vitamin A:
200
IU
|
Calcium:
1
mg
|
Iron:
1
mg
(Nutrition values are calculated by third-party software and an estimate that can vary based on product brands and cooking methods.)