Matcha Overnight Oats makes a healthy and easy meal prep breakfast option for when you're on-the-go or can be made as oatmeal in the morning.
This matcha oatmeal recipe is gluten-free, full of plant-based protein from Greek yogurt and chia seeds and sweetened with honey and splash of vanilla extract.
Sometimes I'll have matcha with breakfast....usually in drink form, but why not enjoy matcha in more ways than just drinks? How about, breakfast? Yes!
I love breakfast, but sometimes I find I need variety. Eating the same old thing gets boring after awhile. If oatmeal is a go-to for you like it is me then finding ways to change it up is a must!
What Does Matcha Taste Like?
If you've never had matcha before, it tastes earthy and nutty. It leans more on the bitter side, but I think it has some sweetness as well. It's definitely a flavor not everyone is a fan of, but personally, I love it!
Matcha has been studied for its numerous potential health benefits. If you're interested in learning more about this antioxidant-rich powder, check out this article: Top 5 Matcha Benefits.
So, if you're a matcha fan like myself or want to try a new hip overnight oats recipe, keep readin'!
Making the Matcha Oatmeal
Below is a collage of all the ingredients in a bowl and the before and after letting it sit. I use a whisk to help the matcha powder dissolve but a fork works too.
Essentially, just measure and dump the ingredients in a bowl or jar and mix well. It'll be thin after you first mix it, but thicken with time as the oats absorb the surrounding liquid and soften. After 2 hours, the oats should look like the picture in the bottom right corner.
Ingredients:
Matcha Powder - can't have matcha oatmeal without the matcha!
Almond milk - although, you can use whatever milk or milk alternative you prefer
Greek Yogurt - adds creaminess to the oats
Chia seeds - helps thicken up the oatmeal
Honey - helps sweeten it up
Vanilla extract - complements the matcha flavors well!
I do an equal ratio of oats to liquid and add a small amount of yogurt. I find the texture thickens up well with this ratio, plus the chia seeds help. If you find you like your oats thinner, add more almond milk. If you find you need it thicker, add more chia seeds.
Refrigerate overnight and grab and go in the morning! You can serve the oats hot or cold, whichever you prefer. Do you eat your overnight oats cold or heat them up? I've been finding I like warming them up a bit before to change it up, but cold oats work well when you're in a pinch!
Side note: Isn't that green color gorg?! Not only delish, but beauuutiful too!
That's it! A super easy and a fun way to change up your breakfast to fuel your morning. The overnight oats are packed with protein and fiber, so it'll help keep you full throughout the morning.
I like to add diffferent toppings on my oats. Sometimes banana slices, other fruit like raspberries or blueberries, granola or coconut flakes. You could also drizzle nut butter on top for added protein and healthy fats. There are so many ways to customize this recipe, so let me know below any of your favorite ways to make overnight oats!
More Breakfast Meal Prep Recipes
Farro Breakfast Bowls

- Need a change-up from oats? This is the recipe for you! Farro is packed with nutrition and makes a delicious breakfast cereal.

Kefir Overnight Oats

- use frozen fruit, old fashioned oats and your favorite kefir for a nourishing and yummy breakfast on-the-go.

Flaxseed Puddin

g - easily made with dates, almond milk and ground flaxseed for a vegan and gluten-free breakfast or snack option.
Recipe Tips & FAQs
Can you heat overnight oats?
Yes, you can! When you heat it up, it'll get thicker like traditional oatmeal.
How long does it take for the oats to absorb the liquid?
Within 2 hours the oats will abosrb the liquid. However, heating the oats up will quicken the process.
My oats are too thick! What can I do?
If the oats seem too thick or pasty, add more liquid to help thin it.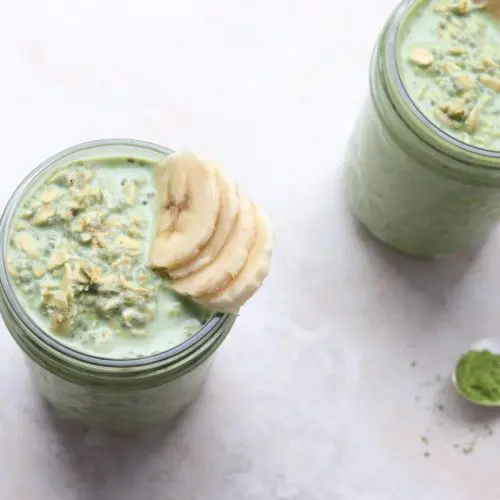 Matcha Overnight Oats
This overnight oats recipe is super easy to meal prep for a healthy, gluten-free breakfast-on-the-go full of plant-based protein from chia seeds & Greek yogurt!
Print
Pin
Rate
Ingredients
½

cup

old fashioned oats

½

cup

milk or milk alternative of choice

¼

cup

Greek yogurt

1

teaspoon

matcha powder

2

teaspoons

chia seeds

1

teaspoon

honey

dash of vanilla extract
Instructions
Measure all the ingredients into a jar or bowl and mix well.

Refrigerate and enjoy the next morning!
Notes
Oats need about 2 hours to absorb all the liquid.
You can microwave overnight oats. This will also speed up the waiting time for the oats to soften.
If your oatmeal is too thick, add more almond milk. If the texture is too thin, add more chia seeds to help absorb the liquid.
Nutrition
Calories:
305
kcal
|
Carbohydrates:
44
g
|
Protein:
18
g
|
Fat:
6
g
|
Saturated Fat:
2
g
|
Trans Fat:
1
g
|
Cholesterol:
8
mg
|
Sodium:
74
mg
|
Potassium:
430
mg
|
Fiber:
7
g
|
Sugar:
14
g
|
Vitamin A:
438
IU
|
Vitamin C:
1
mg
|
Calcium:
274
mg
|
Iron:
3
mg
(Nutrition values are calculated by third-party software and an estimate that can vary based on product brands and cooking methods.)