Easy, healthy on the go breakfast ideas are always helpful, so here's a new one: Farro Breakfast Bowl. This recipe is easy to customize and work to your taste buds! Let's dig in!
An Alternative to Oatmeal
I love oatmeal! However, college may have ruined it for me......nothing was easier and cheaper to make in a dorm room than Quaker's oatmeal, so oatmeal 5 days a week x every week it was for me sophomore year. Anybody else? Thankfully, those days are behind me, and I'm glad to report my taste buds have recovered from dorm room food!
While I still enjoy oatmeal, it's nice having other options! Farro is a great alternative. The texture is much chewier compared to the soft, mushy consistency of oatmeal. Plus, like oatmeal, farro is high in fiber and protein, so it fuels your body throughout the morning.
How to Meal Prep Breakfast Bowls
Why I love these breakfast bowls so much is that they're easy to make on the weekend and have ready to go for the week ahead. You can adjust what you put in the bowls, so it's not the same flavor profile every morning.
For meal prepping, cook the farro ahead of time. Store it in the refrigerator for that next week. When you are ready to assemble your bowls, scoop out the farro, add a dash of milk, toss in some frozen fruit and heat up in the microwave. Mix in your favorite toppings and breakfast is served!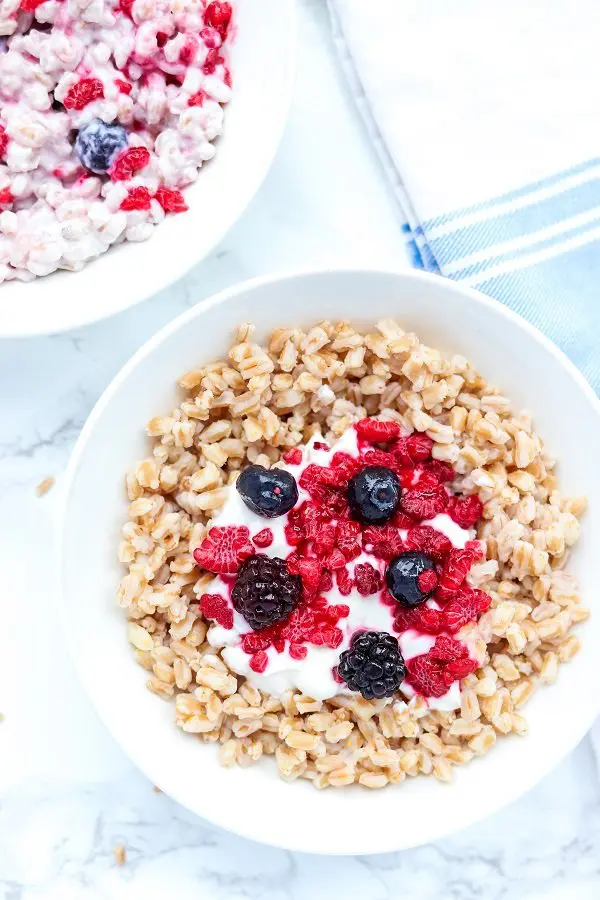 Farro Bowl Recipe
Here are the basics of what you need to make these breakfast bowls:
Cooked Farro: Cooked already in water. Follow whatever instructions tell you on your package. For me, it typically takes about 20-25 minutes for the farro to absorb all the water.
Milk or Non-Dairy Alternative: I love almond milk in my breakfast bowls, but you can use whatever milk you have on hand. When you are ready to put your bowl together, add a splash of milk to the cooked farro before heating it up to make it more of a cereal consistency.
Fruit: If I'm using frozen fruit, I add it in with the milk so that when it all heats up in the microwave the fruit becomes more of jam - delish! You can you fresh fruits too.
Yogurt or Kefir: I include this after heating the farro up to add more protein and give it an extra creaminess.
Nuts & Seeds: If you know me, you know I'm a big fan of adding nuts and seeds to snacks and meals because they add more nutrients and they're filling. Sprinkle some chias, flax seed, walnuts, sliced almonds, pumpkin seeds, pecans or whatever floats your boat!
Sweetener: Drizzle honey, maple syrup or sprinkle brown sugar. Sometimes I don't had extra sweetener, because the frozen fruit heats up into it's own fruit syrup!
That's it! Super easy and delicious! Let me know below if you have a favorite breakfast bowl combo!
If you want more breakfast meal prep ideas, check out my post on za'atar bagels. Make a large batch of these bagels for the week ahead along with a bunch of scrambled eggs, and you got bagel egg sandwiches ready to go! I go through how I make these bagels on my "Breakfast" highlight on Instagram if you want to see a step by step. Happy meal prepping!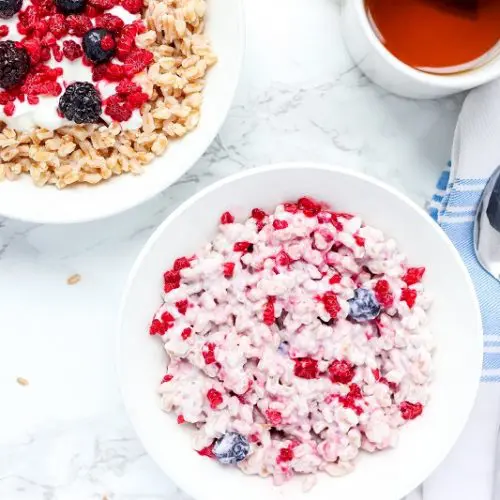 Farro Breakfast Bowl
Easy breakfast meal prep option: try a farro breakfast bowl! Full of protein & fiber. These breakfast bowls are a great alternative to oatmeal!
Print
Pin
Rate
Ingredients
2

cups

dry farro

(cooked in water)

dash of milk or non-dairy alternative

frozen fruit

(Any will do! )

nuts and seeds

(almonds, pecans, walnuts, chia seeds, flaxseed etc.)
Instructions
Cook 2 cups of dry farro according to package instructions in water. Farro is done cooking once all the water is absorbed.

If meal prepping, allow cooked farro to cool to room temperature before storing in the refrigerator.

To prepare the bowls: add a scoop of farro, dash of milk or non-dairy alternative and frozen fruit. Heat up in the microwave or on the stove.

Add a scoop of yogurt or pour some kefir onto the farro. Sprinkle desired toppings such as nuts, seeds or other suggestions included in the blog post.

If desired add extra sweetness with a drizzle of honey or maple syrup - enjoy!
Nutrition
Calories:
235
kcal
|
Carbohydrates:
52
g
|
Protein:
7
g
|
Fat:
1
g
|
Saturated Fat:
1
g
|
Sodium:
6
mg
|
Potassium:
187
mg
|
Fiber:
10
g
|
Sugar:
1
g
|
Vitamin A:
15
IU
|
Calcium:
19
mg
|
Iron:
2
mg
(Nutrition values are calculated by third-party software and an estimate that can vary based on product brands and cooking methods.)