Zesty Lemon Pancakes dusted with powdered sugar is exactly what a Sunday brunch requires if you ask me!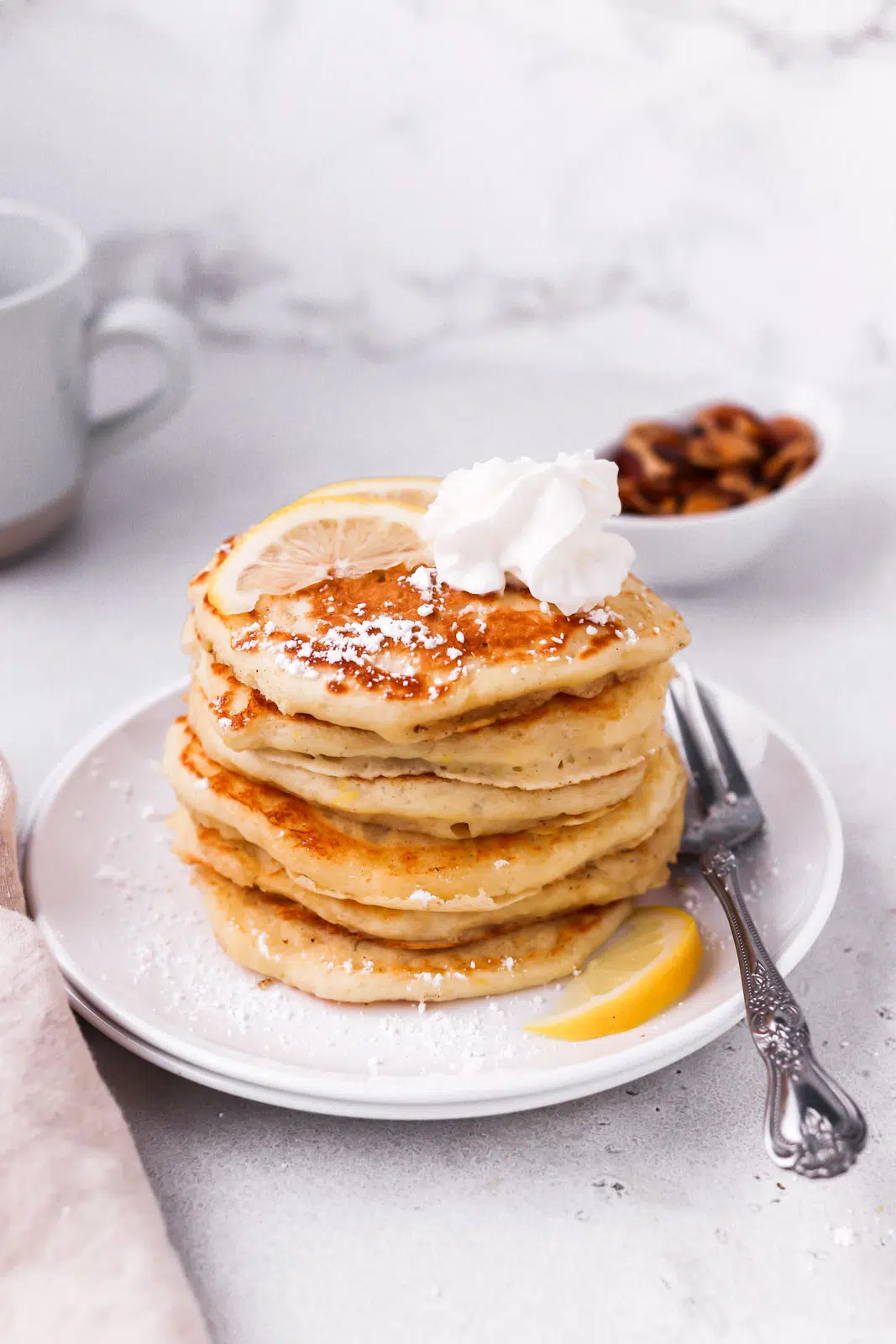 These buttermilk pancakes are sweet yet tangy and sooo lemony! If you love fluffy pancakes, you'll love this recipe!
Top a giant stack with almonds toasted in butter and a dollop of whipped cream for the ultimate Sunday brunch.
Using Buttermilk in Pancake Batter
Want fluffy, moist, soft like cloud pancakes?
You need buttermilk, my friend!
Buttermilk helps activate the baking soda in the batter and gives the pancakes as much air as possible.
The batter will be super bubbly and thicker than batter made with regular milk.
How to Make Pancakes Lemony
Lemon juice of course is a must, but the real key is the zest! The bright, flavorful lemon oils that are released from the lemon's rind bring the flavor!
The important thing is to make sure to not zest the pith aka the white part. It's very bitter and you'll notice your batter and pancakes have the taste of the pith if it gets in there.
Just zest the very top of the lemons and you'll be good to go!
Making the Batter
Like most recipes, you'll want to mix the dry ingredients together and add the wet ingredients right before you're ready to make the pancakes.
Since the batter has baking soda, you'll want to ladle the batter on the griddle asap. The acidic component from the lemon juice and buttermilk will activate the backing soda once they're mixed together.
The batter will be very bubbly and airy.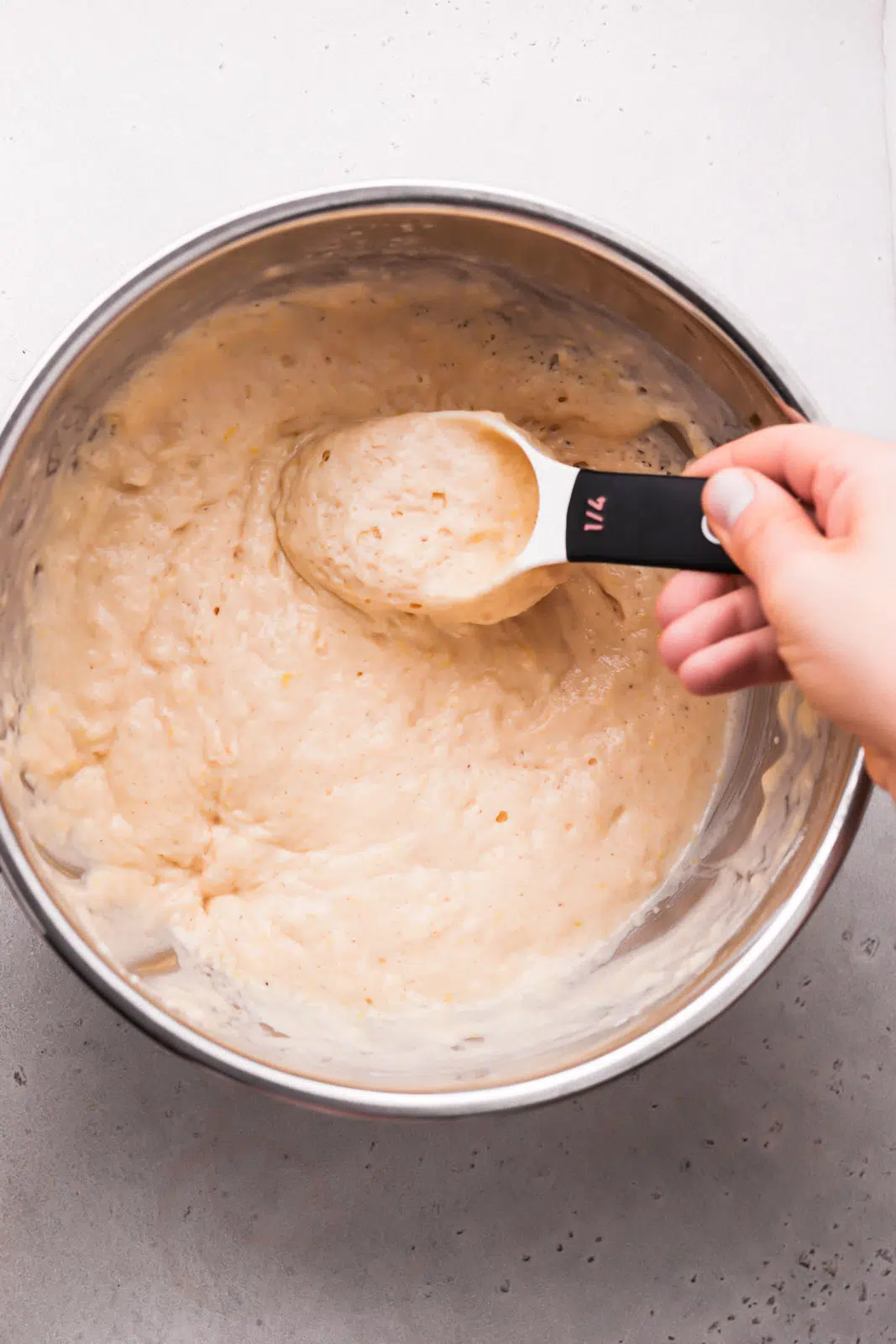 As hard as it is, try to not overmix the batter. I once heard mix the batter for 15 seconds and then stop!
The more the batter is mixed, the more gluten forms and the pancakes will lose their airy, fluffy texture.
Use a ¼ cup for scooping the batter onto the hot griddle and wait for the bubbles to appear before flipping for a golden brown beautiful flapjack of a pancake!
Toasted Almonds
Toasting nuts and seeds releases a whole new aroma and flavor. I find lemon and almond goes well together, so I add a touch of almond extract to the batter.
If you aren't a fan of almond extract, you can definitely substitute vanilla extract.
For toasting, I like to use unsalted sliced almonds. I heat up a pan over medium heat and toast them in .5-1 T butter.
Once they get golden brown, you'll know they're done - plus they'll smell amazing!
Serving Suggestions
Pile your pancakes high, top with your almonds, add a dollop of whip cream and a sprinkle of powdered sugar on top!
Of course, add a pad of butter and pour some maple syrup on top to finish it off and enjoy your brunch!
You can also add other things to batter - try blueberries or strawberries for more fruitiness!
I'm a sucker for anything with blueberry and lemon, so that's my go to - but these are aaaamazing just on their own with their bright lemon flavor!
Recipe Tips and FAQs
What if I don't have buttermilk? Can I substitute something else?
Definitely! You can make your own buttermilk by adding 2 tablespoons lemon juice or white vinegar to 2 cups milk. Stir and let it sit for 5-10 minutes before using it in the recipe to allow the mixture to thicken and curdle.
Can I freeze the pancakes?
Yes, I do this all the time! Freeze them and then microwave them to warm them up and then toast them to get the buttery edges crisp again. That's my favorite way to reheat them!
More Brunch Recipes
Lemon Raspberry Loaf Cake: If you're on this recipe, then you must be a fan of lemon - right?! Serve this decadent loaf cake for a divine breakfast dessert - topped with a white chocolate glaze that is out of this world goooood!
Mediterranean Omelette: Eggs never get old to me! Try this omelette stuffed with kale, sun-dried tomatoes and feta cheese for a savory side to your Sunday brunch spread.
Grapefruit Mimosas: Mimosas and brunch are a match made in heaven and if you love citrus, then you'll love this mimosa recipe with freshly squeezed grapefruit juice, lime juice, triple sec and your favorite champange!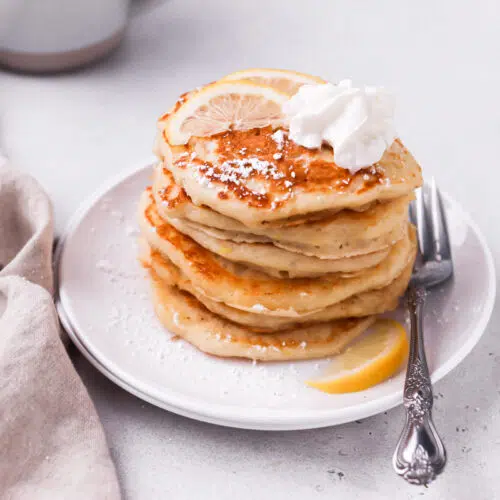 Buttermilk Lemon Pancakes
Fluffy Buttermilk Lemon Pancakes are topped with buttery toasted almonds and full of sweet, tangy lemon flavor!
Print
Pin
Rate
Ingredients
2

cup

flour

2

tablespoons

sugar

2

teaspoons

baking powder

1

teaspoon

baking soda

¼

teaspoon

salt

2

cups

buttermilk

⅓

cup

freshly squeezed lemon juice

2

eggs

1

teaspoon

almond extract

zest of 2 lemons

toasted almonds in butter

(optional)
Instructions
Preheat the griddle to 350 degrees Fahrenheit or heat a large pan over medium high heat.

Mix together the flour, sugar, baking powder, baking soda and salt in a large bowl.

In a smaller bowl, whisk together the buttermilk, lemon juice, egg, almond extract and zest together.

Pour the wet ingredients into the dry ingredients and stir to combine. The batter will be bubbly, airy, thick and lumpy. Try to not over mix - aim for 15 seconds of whisking tops.

Ladle about ¼ cup of the batter on the hot pre-heated griddle or pan. Let the batter bubble and then flip until you cook all the pancakes.

Pile your pancakes and top with a dusting of powdered sugar, whipped cream, butter, maple syrup and toasted almonds if desired!
Notes
Buttermilk substitute: make your own buttermilk with 2 tablespoons white vinegar or lemon juice mixed into 2 cups whole milk. Let the milk sit for 5-10 minutes to allow the milk to curdle and thicken a bit.
When zesting the lemons, try to zest just the top in order to avoid the pith aka the bitter white part. If the pith gets into the batter, you'll notice a bitter taste to the pancakes.
If toasting the almonds, heat a pan over medium heat and add a few handful of unsalted sliced almonds to .5-1 tablespoon butter. Toast until golden brown or your desired toasted level!
Storage: You can put the pancakes in the refrigerator and eat them within the week or store for longer in the freezer. They heat up well in the microwave and taste amazing when you toast them afterwards to help re-crisp the butter edges!
Nutrition
Calories:
243
kcal
|
Carbohydrates:
41
g
|
Protein:
9
g
|
Fat:
4
g
|
Saturated Fat:
2
g
|
Polyunsaturated Fat:
1
g
|
Monounsaturated Fat:
1
g
|
Trans Fat:
1
g
|
Cholesterol:
63
mg
|
Sodium:
527
mg
|
Potassium:
188
mg
|
Fiber:
1
g
|
Sugar:
8
g
|
Vitamin A:
212
IU
|
Vitamin C:
5
mg
|
Calcium:
186
mg
|
Iron:
2
mg
(Nutrition values are calculated by third-party software and an estimate that can vary based on product brands and cooking methods.)