Do you love a good, savory meal? Me too! This 1 skillet recipe is easy to make and sure to hit the spot!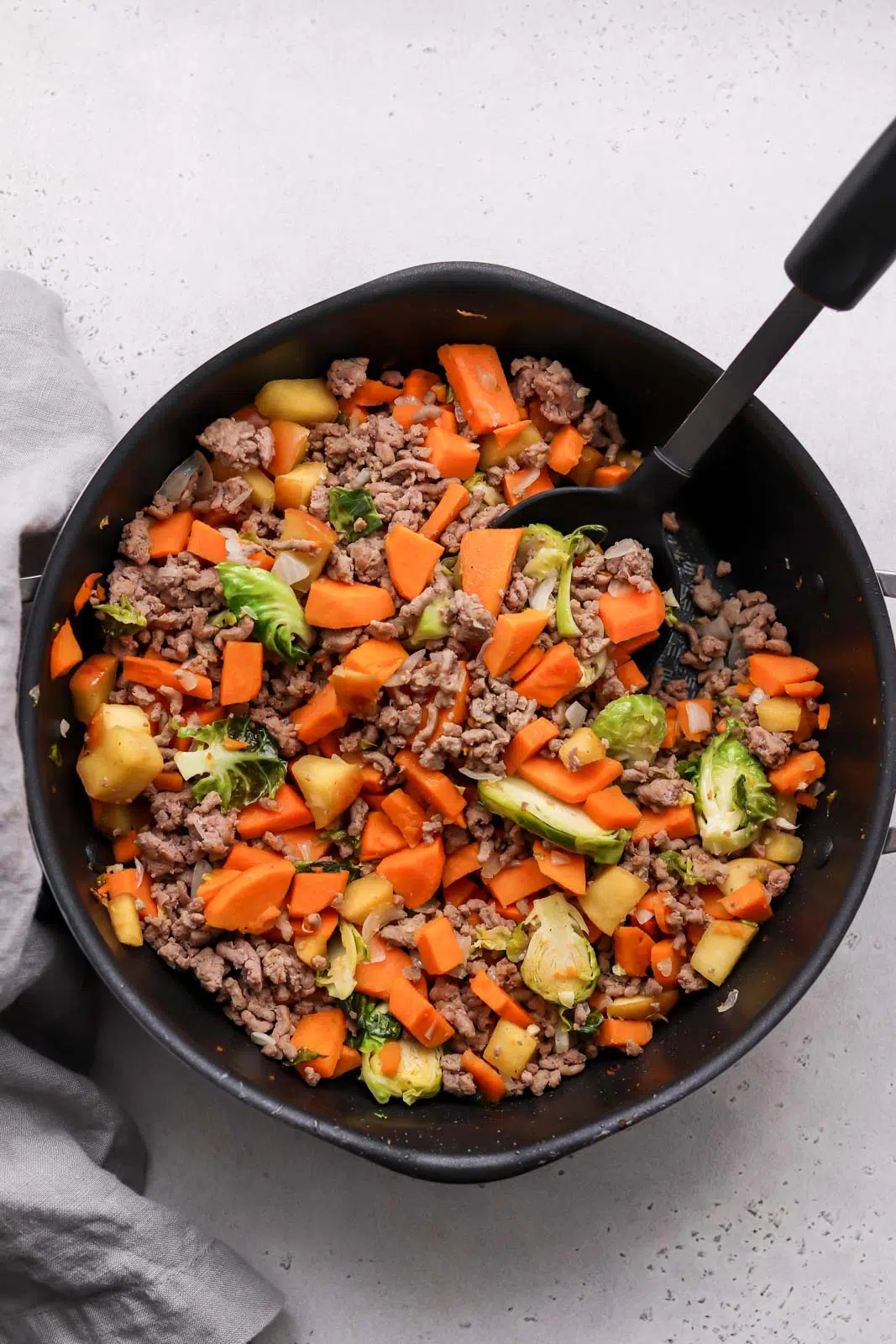 Made with lean ground turkey, onions, sweet potatoes, brussels sprouts and apples. This dish definitely feels like a fall meal but can also be enjoyed at any time of year.
The best part? You can use this recipe for breakfast, lunch or dinner!
Why I Love This Recipe
One of my favorite things about this dish is the variety of flavors. The apples and sweet potatoes add a touch of sweetness and the turkey and brussels sprouts add more savory notes.
It's the perfect fall harvest meal. You can get creative too and substitute the apples and brussels sprouts for other favorite fall produce.
I don't add too many seasonings to this recipe because it naturally has so much flavor. The salt from the broth helps bring out those flavors, which is why it's one of the most important steps.
Plus, the broth helps cook the fibrous sweet potatoes quickly and keeps the turkey moist....no one likes dry turkey!
But the best part might be that it comes together so easily in 35 minutes and the versatility in using the recipe is truly endless!
Pair it with eggs and toast and BOOM brunch is ready. Or add in a grain like rice, farro or quinoa to make a main dish for lunch or dinner....some many options. We'll get into more creative meal inspiration at the end of the post!
Plus, it comes together easily in one pan. One-pan meals are hard to beat for easy clean-up and ease of cooking!
Skillet Instructions
In just a few simple steps, you can have a healthy fall harvest skillet hash ready to go! All you need is one large skillet and a small bowl.
Since there's only so much room in the skillet, we'll need the bowl to hold the cooked turkey while the veggies cook in the pan.
Below, is the recipe laid out in 6 easy steps.
Start by heating your large skillet or pan over medium heat. The first item to cook is the ground turkey since it's raw. Once you can tell it's cooked through with no pink you are good to move on to the next step!
Add the chopped onions and minced garlic. Cook them with the turkey for about 3 more minutes so that they soften.
Scoop the turkey and onions into a bowl and set aside to make room for the other ingredients.
In the skillet, add the chopped sweet potatoes, brussels sprouts and apples.
Pour the veggie or chicken broth over the fruit and vegetables. This will help them steam and cook quickly! Cover with a lid and give it about 15 minutes to soften up....it'll smell amazing!
Add the turkey and onions back to the skillet, mix all together and cover with the lid for 5 more minutes to bring all the flavors together.
And that's it - you got a large skillet full of yummy fall flavors, ready for enjoying!
Serving Suggestions
Breakfast: Create turkey hash breakfast burritos by adding in scrambled eggs to a tortilla with the ground turkey mixture plus some spinach and cheese. Or try cooking an egg over easy in the center of the skillet. Make room for an egg in the center and cover the skillet to help the egg cook.
Lunch or Dinner: Cook a grain like rice, quinoa or farro. Toss it all together for a warm and filling fall meal. If you're a stuffed peppers fan, try this as a beef alternative for the stuffing!
Salad Options: Add beans, greens and tortilla chips for a taco salad spin-off!
More Recipes to Try!
Need more ground turkey recipes? Try my Greek-Style Turkey Burgers! Made with spinach and feta cheese and topped with tzatziki - these turkey burgers are a blog favorite recipe!
For a fall sweet potato recipe, try my Roasted Root Vegetables recipe. Sweet potatoes, beets and carrots are coated in an orange and ginger honey glaze and roasted to perfection!
Love brussels sprouts? Try my Basil Roasted Brussels Sprouts recipe for a flavorful twist on brussels.
Recipe Tips and FAQs
How long do I cook the ground turkey?
Until there is no pink! This takes about 10 minutes when using medium heat. If you have a thermometer, it should read 165 degrees Fareinheight when it's cooked through.
What could I substitute for the brussels sprouts and apples if I don't have them?
You could try kale, spinach, cabbage, mushrooms, asparagus or broccoli. Really any veggie is up for game! If you try something different, let me know if the comments how it turned out!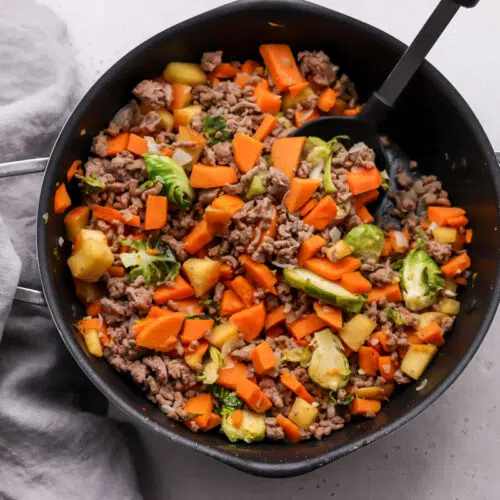 Ground Turkey Sweet Potato Skillet with Brussels Sprouts
Ground Turkey Sweet Potato Skillet is a delicious fall harvest meal. It's easy to meal prep for breakfast, lunch or dinner. Serve it in an egg burrito, stuffed pepper alternative, taco stuffing or salad topper!
Print
Pin
Rate
Ingredients
1

pound

ground lean turkey

2

tablespoons

olive oil

¼

teaspoon

salt

⅛

teaspoon

pepper

⅔

cup

diced onion

1

teaspoon

minced garlic

3.5

cups

peeled and diced sweet potato

1.5

cups

diced apples

1.5

cups

sliced brussels sprouts

½

cup

vegetable or chicken broth
Instructions
Heat a large skillet over medium heat and cook the ground turkey in the oil, salt and pepper until there is no pink.

Add the onions and minced garlic and cook an additional 3 minutes to soften them. Scoop the turkey and onions into a bowl to set aside.

Next, add the brussels sprouts, apples and sweet potatoes in the pan. Pour the chicken or vegetable broth and cover with a lid. Cook for 15 minutes or until softened.

Add the bowl of cooked turkey and onions back into the pan, mix well, cover and cook for an additional 5 minutes. Enjoy!
Notes
Cook the turkey until there's no pink or cooks to an internal temperature of 165 degrees Fareinheight. 
Turn this one-pan recipe into a bunch of different meals: burritos, tacos, cook a sunny side up egg in the skillet with the turkey mixture, create warm grain bowls with the sweet potato, turkey hash, make stuffed peppers with it & more!
Nutrition
Calories:
227
kcal
|
Carbohydrates:
24
g
|
Protein:
20
g
|
Fat:
6
g
|
Saturated Fat:
1
g
|
Trans Fat:
1
g
|
Cholesterol:
42
mg
|
Sodium:
263
mg
|
Potassium:
632
mg
|
Fiber:
4
g
|
Sugar:
8
g
|
Vitamin A:
11251
IU
|
Vitamin C:
23
mg
|
Calcium:
42
mg
|
Iron:
1
mg
(Nutrition values are calculated by third-party software and an estimate that can vary based on product brands and cooking methods.)