These glazed Lemon Lavender Cookies are made for any lavender lover's dream! Made with freshly squeezed lemon juice and zest for the ultimate floral spring cookie.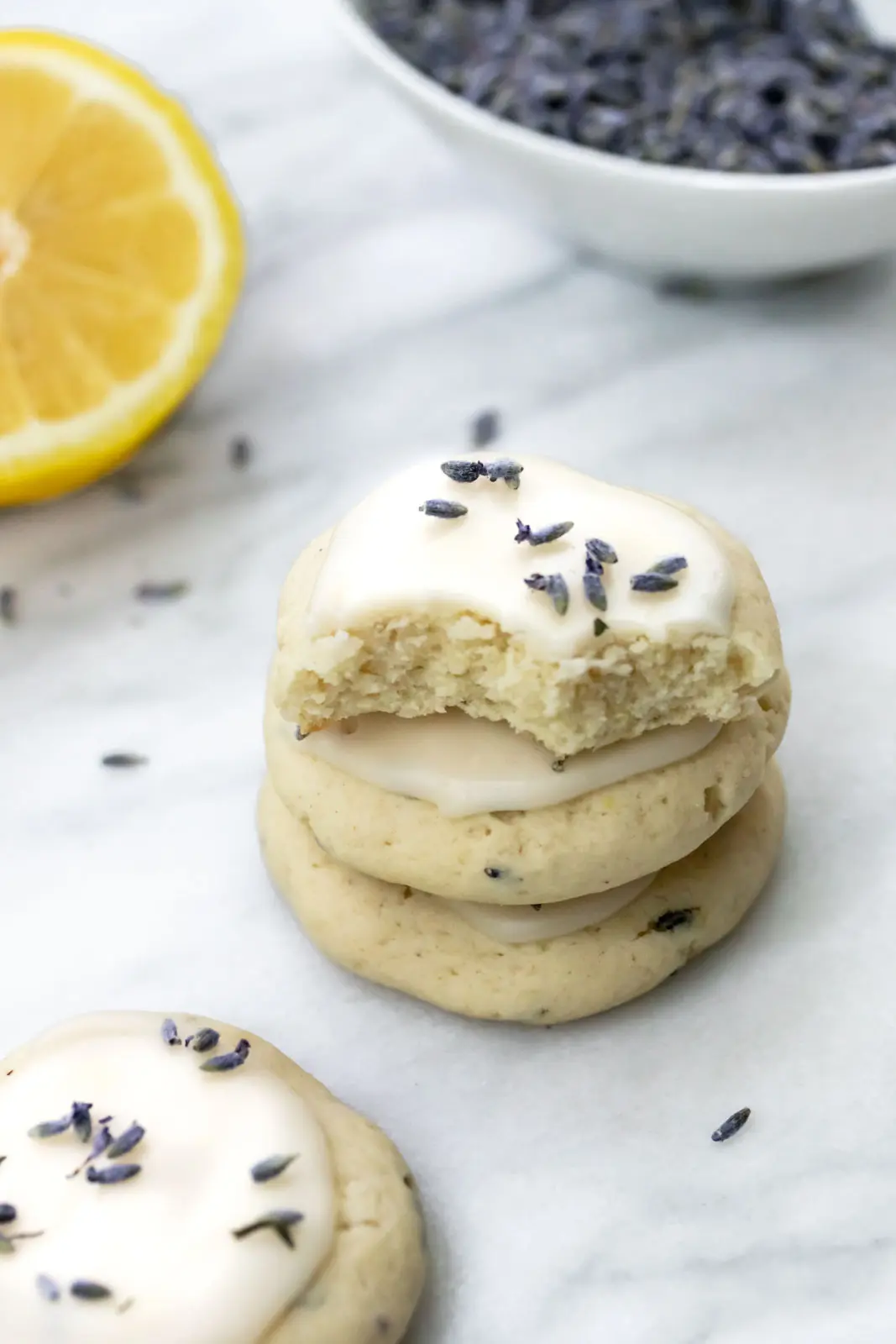 These cookies are perfect to have with a cup of tea. I highly recommend a cup of earl grey. The bergamot compliments the zesty lemon and earthy lavender so well!
If you've always wanted to cook with lavender look no further! This recipe is easy to make and will get the culinary creative wheels spinnin'.
Cooking and baking with fresh herbs and edible flowers is something I love. I don't do it often, but when I do there's some extra note of lavishness that I love!
Ingredients
Of course, the main stars are lemon and lavender. The way I get the lavender flavor incorporated is by cutting it in with the sugar. A food processor does a good job of helping the oils release from the buds and zest.
When you pulse it for a bit, you'll get the most fragrant aroma ever! The cookies will truly taste just like the aroma, so if you want more lavender this would be the time to add it.
The recipe is like a cross between a butter and sugar cookie. You get the moist sugar cookie part and the airy, soft part of a butter cookie.
Essentially, you'll cream the butter and sugar together, add the liquid ingredients and mix it into the dry ingredients.
To give the dough more firmness, I refrigerate it for at least 2 hours before baking. The dough will hold its shape as it bakes and not spread out. So know whatever shape you put the dough in the oven you will get as a cookie when it's done baking!
When the cookies are done baking, I definitely recommend the flavorful glaze recipe. It's got fresh lemon juice and homemade lavender syrup so you get the best of both worlds.
If you've never made a homemade syrup, it's super easy! I go through all the steps with pictures in my lavender latte post. Since you'll have extra lavender syrup leftover, save it for a hot latte the next time you need a hot coffee beverage!
Fresh Lavender
I believe the key to these cookies is picking a good lavender. You want the buds to be aromatic so that the floral notes come out through the cookie.
There are three types of lavender: French, Spanish and English and they all got their own special traits! As you can probably tell, I'm a big lavender fan 🙂
In fact, I went to a lavender farm in Hawaii because how does one not pass that up? It was paradise if you ask me!
For the recipe, I wanted to find lavender buds that weren't too dried out they lost their color. I've noticed this happens a lot when I buy lavender; the buds are more of a grey/brown color rather than a beautiful blue/purple hue.
So, I did a lot of searching and chose a small company that truly delivered! The brand is called Lavande Sur Terre. The buds are super fragrant and absolutely beautiful!
This post isn't sponsored by them, but I felt excited to finally find a brand that sells colorful lavender buds and had to share their amazing product!
Steps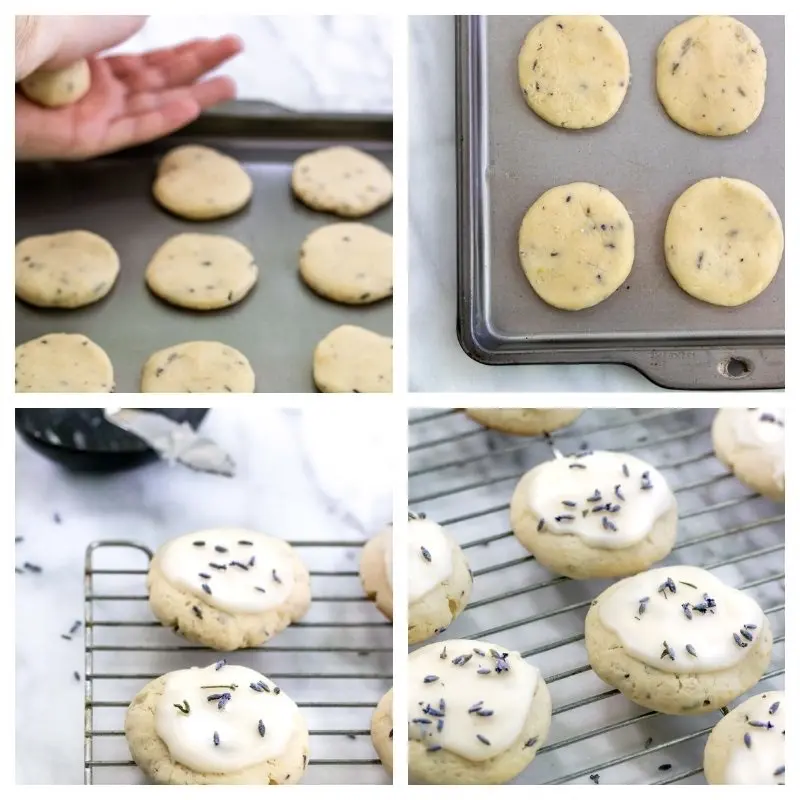 To start, I like to get the dry ingredients together first in a large mixing bowl. Then I move on to the sugar and cut in the zest and lavender buds.
I cream the butter and sugar together until nice and fluffy and then add in the wet ingredients. Lastly, add the dry ingredients in two batches and you got dough!
Refrigerate it for 2 hours before baking. I roll the dough into balls and flatten it between my palms to get nice flat circles. The dough is raised about ½ inch off the baking sheet.
You could use a cookie press gun to get perfect circles or to press fun shapes and designs into them!
They'll bake for just 10-12 minutes - not long at all before they're ready to melt in your mouth! But before you indulge just take 5 minutes to make the icing - so worth it!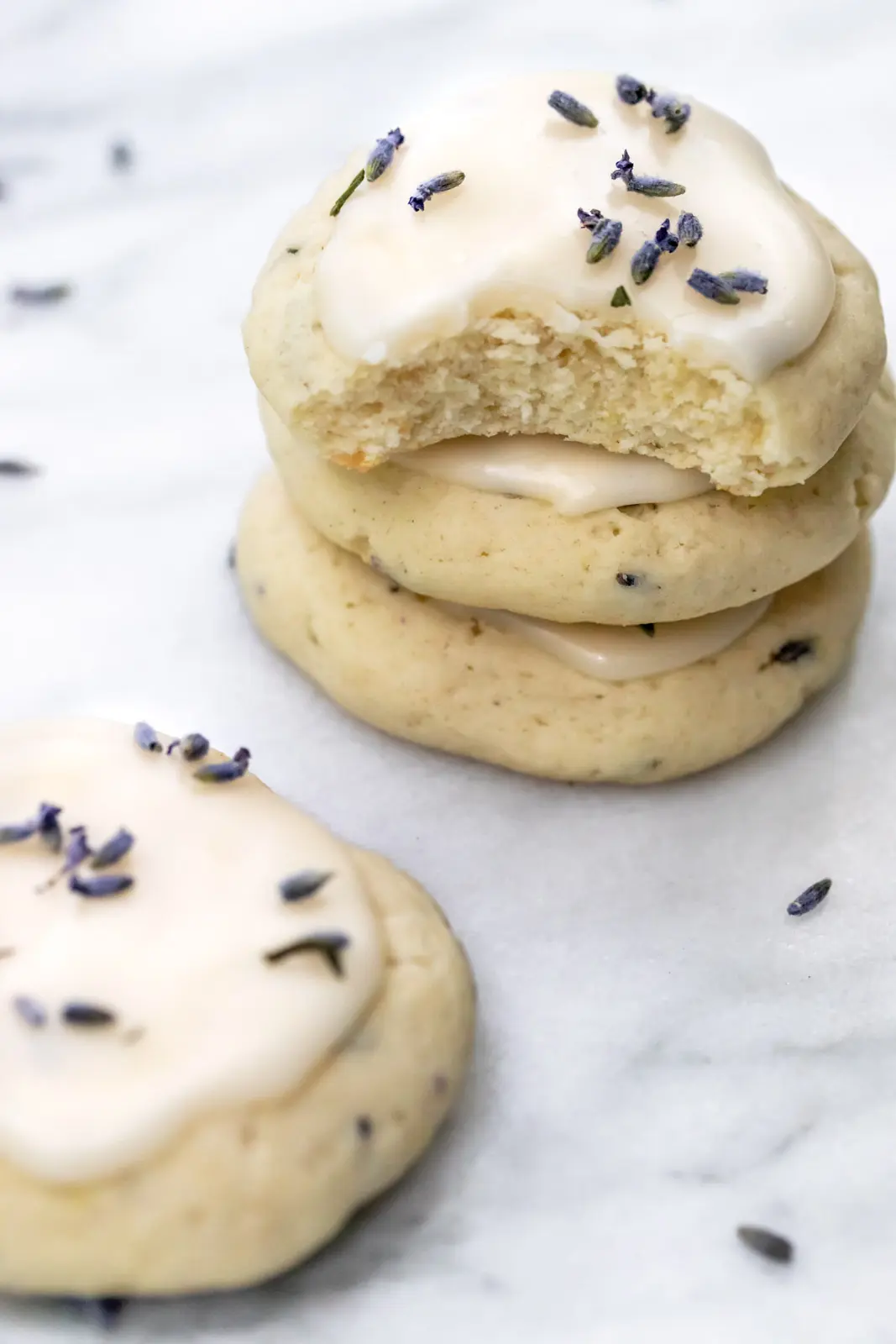 Recipe Tips and FAQs
Can I refrigerate the dough for longer than 2 hours?
Yes! I've refrigerated the dough overnight and had no problems baking the cookies the next day. I wouldn't do longer than that but overnight is just fine. Just make sure to tightly wrap the dough so that it doesn't dry out.
If I don't want to make the lavender syrup, what can I use to substitute it in the glaze?
Add ½-1 tablespoon milk in its place. Add a small amount until you reach your desired consistency.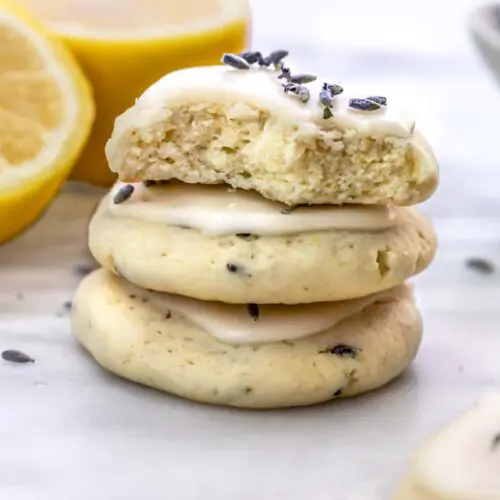 Glazed Lemon Lavender Cookies
These spring Lemon Lavender Cookies are delicious melt in your mouth buttery cookies. Made with a lemon and lavender glaze for a completely divine cookie!
Print
Pin
Rate
Ingredients
Cookies
2 ¼

cups

all purpose flour

1

teaspoon

baking powder

¼

teaspoon

salt

⅔

cup

sugar

1

tablespoon

dried lavender buds

zest of 1 lemon

½

cup

unsalted butter

(room temperature)

1

egg

(room temperature)

¼

cup

lemon juice

1

teaspoon

vanilla extract
Lemon Lavender Glaze
1

cup

powdered sugar

(sifted)

1

tablespoon

melted butter

1

tablespoon

lemon juice

1

tablespoon

lavender syrup
Instructions
Cookies
Take the butter and egg out 30 minutes to an hour prior to starting the recipe to allow them to come to room temperature.

In a large mixing bowl, whisk together the flour, baking powder and salt and set aside.

In a food processor, blend the sugar, lavender buds and lemon zest together until fragrant.

Beat the butter and sugar mixture until light and fluffy.

Add the egg, lemon juice and vanilla extract to the butter and sugar and mix to incorporate.

In two batches add the flour mixture until dough forms.

Cover and refrigerate for at least 2 hours.

When ready to bake the cookies preheat the oven to 350 degrees Fahrenheit.

Roll the dough into balls and flaten between your hands to get a flat circle about ½ inch in height. Place the cookies on a cookie sheet and bake for 10-12 minutes.
Lemon Lavender Glaze
Using a fork or whisk, mix the sifted powdered sugar, melted butter, lemon juice and lavender syrup together.

Spoon onto the cooled cookies and top with extra lavender buds.
Notes
If you want perfect circles, you can roll the dough into logs before refrigerating and then slice before baking or use a cookie press gun to get the desired shape.
Whatever shape you make the dough, know it will hold it. So, if you roll the dough in balls and bake them, they won't flatten out.
If you need to substitute the lavender syrup in the glaze, add ½-1 tablespoon milk in its place. Add a small amount until you reach your desired consistency.
Nutrition
Calories:
118
kcal
|
Carbohydrates:
19
g
|
Protein:
1
g
|
Fat:
4
g
|
Saturated Fat:
3
g
|
Trans Fat:
1
g
|
Cholesterol:
17
mg
|
Sodium:
46
mg
|
Potassium:
19
mg
|
Fiber:
1
g
|
Sugar:
10
g
|
Vitamin A:
134
IU
|
Vitamin C:
1
mg
|
Calcium:
14
mg
|
Iron:
1
mg
(Nutrition values are calculated by third-party software and an estimate that can vary based on product brands and cooking methods.)