This Healthy Chocolate Smoothie highlights one of my favorite nutrient-dense foods - chia seeds!
Chia seeds provide incredible nutrition. They may be tiny, but they are mighty! The Aztecs used them as currency they were so valuable, but in today's world chia seeds are loved for their high nutritional profile.
These guys are packed with vitamins, minerals, protein, healthy fats, and fiber. I love adding them to cereal, granola and especially smoothies! This delicious chocolate smoothie recipe will not only satisfy your taste buds, but you'll also actually feel full!
Adding Chia Seeds in Smoothies
Wondering how to use chia seeds in smoothies? Let's start by talking about how they react in liquid.....
Chia seeds absorb up to 12x their weight in liquid! Isn't that crazy? This is why I like to soak them before adding them to smoothies. Plus, they grind up more finely since they expand in the liquid. In this recipe, I let them absorb in the almond milk first.
You can also add them in dry, just personal preference. If you add chia seeds in dry make sure to drink water with your meal. Otherwise, the chia seeds may cause some GI back up aka bloating!
If I add chia seeds dry to smoothies, I usually stir them in after pouring the smoothie into a glass so that way I don't have to dig around cleaning the blender and finding chia seeds in every crevice. Those things get stuck in every corner!
In this recipe, I let 1 tablespoon of chia seeds sit in ¼ cup of almond milk. I stir the seeds every 5 minutes and by 15 minutes, they usually form a thicker, pudding-like consistency (shown above). Pre-soaking the chia seeds this way and adding them to the blender will help grind them up into a finer texture. If you don't like the idea of seeds in your smoothie, try it first this way! You might be surprised by how finely they are ground 🙂
How to Store Chia Seeds
I store most of my nuts and seeds in the refrigerator to maintain freshness. Since chia seeds have healthy fats, you want to protect those oils from going bad. Storing them in a dry, cool area like a refrigerator is always a good idea!
Rich Chocolate Flavor
This smoothie recipe is richhhh. It's not super sweet or dessert-like but has more of a dark chocolate richness that is divine! I honestly don't add in the honey sometimes because I'm so in love with the dark chocolate flavor.
If you're looking for an added sugar-free smoothie recipe - this is it! Try it without honey first and you might be surprised how delish it is without the added sugar! But if you find you want some extra sweetness, drizzle some honey into the blender and adjust the sweetness as needed for your taste buds!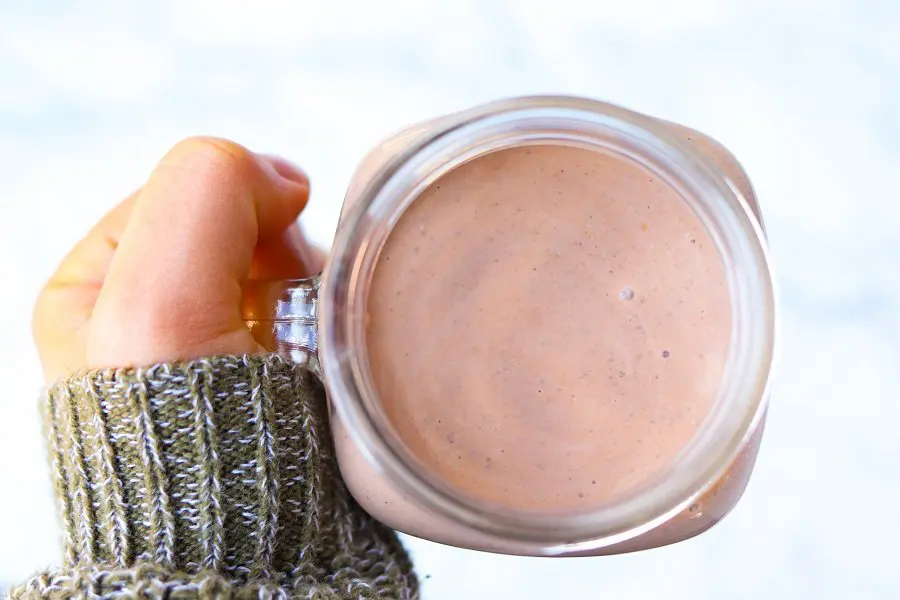 Chocolate Chia Smoothie
I start this smoothie by blending the frozen banana with the yogurt and gelled chia seeds. Then I add in the cacao powder, cinnamon and vanilla extract. I like to stir in the powders. Otherwise, when you turn on the blender the cacao and cinnamon hit the sides and top of the container and don't actually make it into the smoothie. Once those are mixed in well, I add in the ice cubes and blend well. Pour and enjoy! Do you have a favorite way to eat chia seeds? Let me know below in the comments!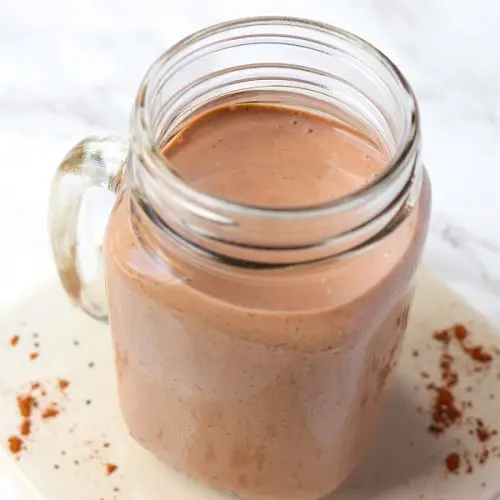 Healthy Chocolate Smoothie With Chia Seeds
Rich & creamy, this healthy chocolate smoothie with chia seeds is divine! Made with yogurt, cacao, cinnamon & vanilla extract. Full of protein and added sugar free!
Print
Pin
Rate
Ingredients
1

frozen banana

1

cup

plain Greek yogurt

¼

cup

milk or non-dairy alternative

1

tablespoon

chia seeds

1

tablespoon

cacao powder

½

teaspoon

cinnamon

½

teaspoon

vanilla extract

1

teaspoon

honey

(optional - leave out if wanting to make it added sugar free)

½

cup

ice (about a handful of ice cubes)
Instructions
Mix ¼ cup milk or non-dairy alternative (I use almond milk) with 1 tablespoon chia seeds. Stir every 5 minutes until the seeds absorb the liquid and become more of a pudding - takes about 15 minutes.

Blend the frozen banana, yogurt and gelled chia seeds.

Add in the cacao, cinnamon, vanilla and honey. Stir so that the powder blends into the mixture. Then blend away until mixed well!

Add in the ice cubes, blend well - enjoy!
Nutrition
Calories:
192
kcal
|
Carbohydrates:
26
g
|
Protein:
14
g
|
Fat:
5
g
|
Saturated Fat:
2
g
|
Trans Fat:
1
g
|
Cholesterol:
7
mg
|
Sodium:
92
mg
|
Potassium:
279
mg
|
Fiber:
5
g
|
Sugar:
15
g
|
Vitamin A:
108
IU
|
Vitamin C:
5
mg
|
Calcium:
221
mg
|
Iron:
1
mg
(Nutrition values are calculated by third-party software and an estimate that can vary based on product brands and cooking methods.)