Ready for a quick and easy breakfast? I got a 3 ingredient breakfast recipe you can meal prep: Kefir Overnight Oats. All you need is old fashioned oats, kefir and frozen fruit.
As you can probably tell from past posts, I love kefir! It's high in probiotics (good for supporting bacteria in our gut) and protein to help keep us full. It has a thinner consistency than yogurt with a creamy, tangy taste and is usually 95% lactose-free.
I've written on the differences between kefir and yogurt and how to make your own homemade kefir in past kefir recipe posts if you're interested in learning more!
You can use kefir in so many ways! Create a dressing with it, smoothies, breakfast bowls, even bake with it! But today's recipe is using oats. If you like traditional oatmeal, I think you'll enjoy this spin on a classic breakfast!
Recipe Prep
The simplest recipe version of this kefir breakfast bowl requires just two ingredients: kefir and old fashioned oats. You can use store-bought kefir or make your own homemade batch. You'll need a 1:2 ratio of oats to kefir, so ½ cup oats and 1 cup kefir are perfect for one serving.
Topping the overnight oats with frozen fruit is an easy way to add natural sweetness. The frozen fruit will defrost by the time you eat it in the morning, so it works well with meal prep!
Since it's summer, I used mango....also because it's my favorite fruit! I used plain kefir this time, but I love using flavored kefir to add a touch of sweetness and more flavor.
Chia Seeds and Other Toppings
You can always add additional toppings like flaxseed, chia seeds, hemp seeds, sliced almonds, granola, cacao nibs and spices! Chia seeds are my favorite topping because they help bulk up the oatmeal. Since they absorb 9x their weight in volume, the oats will thicken up overnight.
When I use plain kefir, I always drizzle a little honey or maple syrup to help balance the tart taste of the plain kefir.
Recipe FAQs & Tips
Can I make this the morning of or do I have to meal prep it the night before?
You don't have to meal prep the oats the night before. Mix the kefir and oats and allow it to sit for 15 minutes to soften. The frozen fruit won't have time to defrost in those 15 minutes, so instead, throw in some fresh fruit and your breakfast is good to go!

In the picture below, I made chocolate oatmeal with cacao powder, cinnamon, chia seeds and cacao nibs. This is the texture after stirring it all together and letting it sit for a good 15 minutes.

How long can I store the overnight oats after making it?
While overnight oats last awhile and don't have to be eaten the next day, it's best to eat it the next morning. The texture is optimal when the frozen fruit defrosts. Plus, if the defrosted fruit sits on top of the mixture for days, the oats may become soggy.
Are overnight oats a healthy breakfast?
Simply put, yes! Oats are a great source of fiber and protein, and kefir is an excellent source of calcium, vitamin D, protein and probiotics. Pairing these two together will help sustain you throughout your morning!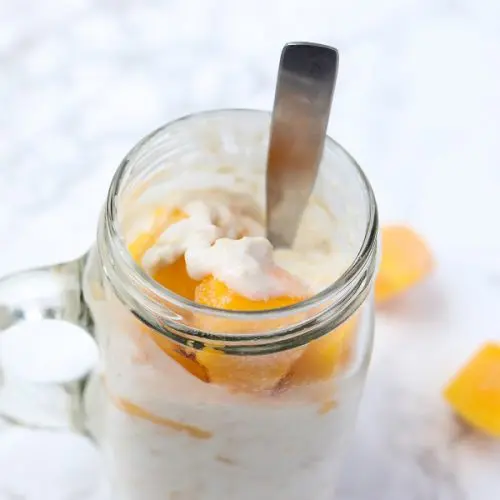 Kefir Overnight Oats With Frozen Fruit
Overnight oats are a common breakfast meal prep option, but try using kefir! Kefir is a great source of protein, calcium, vitamin D and probiotics to help support gut health. Make breakfast easy with this kefir and oat recipe!
Print
Pin
Rate
Ingredients
1

cup

kefir

(plain or flavored)

½

cup

old fashioned oats

1

cup

frozen fruit

1

teaspoon

honey

(optional for added sweetness)

additional toppings
Instructions
In a jar or container, mix ½ cup old fashioned oats and 1 cup kefir until well combined. If adding chia seeds, mix them in the night before (at this step) so that they can help the oats and kefir thicken.

Add frozen fruit on top and cover with a lid to refrigerate overnight.

In the morning, add any other desired toppings and enjoy!
Notes
If meal prepping, make the night before and eat the next morning after the fruit has defrosted.
If not meal prepping, oatmeal can be made in the morning with fresh fruit instead of frozen. Allow 15 minutes after stirring, for the kefir and oats to thicken.
Topping Ideas: chia seeds, flaxseed, hemp seeds, sliced almonds, walnuts, honey, maple syrup, cacao powder, cinnamon, vanilla extract, cacao nibs etc.
Nutrition
Calories:
353
kcal
|
Carbohydrates:
52
g
|
Protein:
14
g
|
Fat:
11
g
|
Saturated Fat:
5
g
|
Cholesterol:
30
mg
|
Sodium:
128
mg
|
Potassium:
285
mg
|
Fiber:
5
g
|
Sugar:
24
g
|
Vitamin A:
1385
IU
|
Vitamin C:
30
mg
|
Calcium:
330
mg
|
Iron:
2
mg
(Nutrition values are calculated by third-party software and an estimate that can vary based on product brands and cooking methods.)
If you ever make a recipe, tag me on Instagram @monicanedeff.rdn I love seeing your creations and sharing them with the community! Please comment and give this recipe a star rating if you've made it as it greatly helps support this blog and my small biz, thank you!
Latest Posts