In college, I made Salsa Fresca Chicken using my crock pot all the time! It's so easy and simple to make. All you need is three ingredients: salsa, cheese and chicken. Just throw those three ingredients in your crock pot and let it work its magic!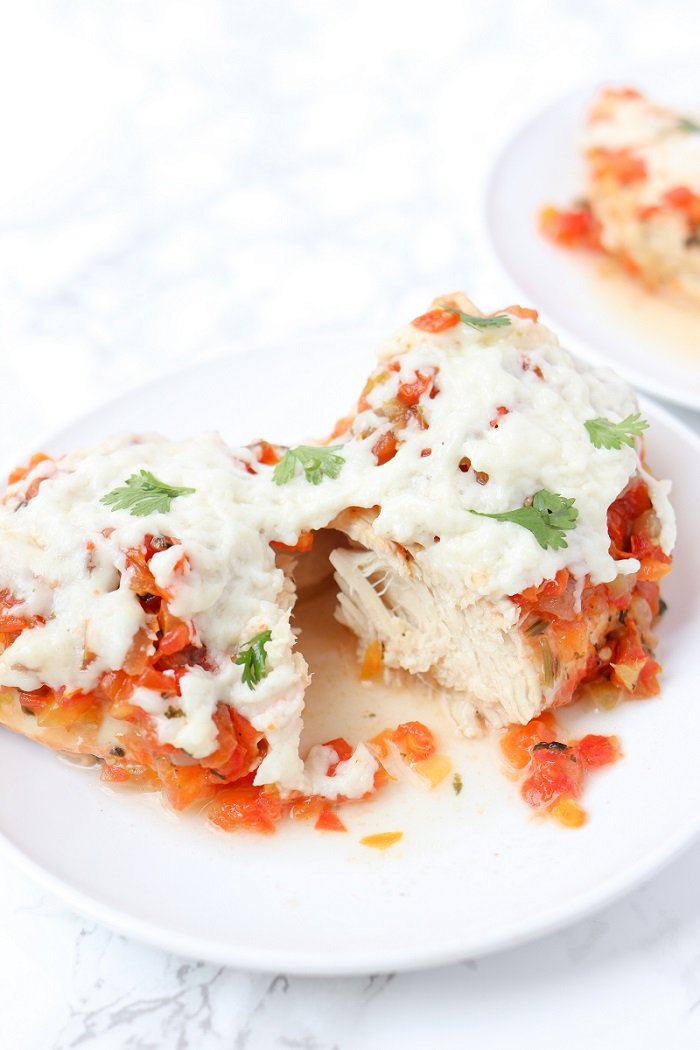 I remember thinking why did it take me so long to discover the amazing world of crock pots? They really are game changers! Throw a bunch of ingredients that sounds good, some liquid, some protein, turn it on high, let it cook a few hours and BOOM dinner is served in no time!
I love baking chicken breast in the oven, but the moist tenderness that comes from a crock pot is incredible! This salsa fresca chicken recipe is so ridiculously simple. You can't mess it up. If you haven't fallen in love with crock pots yet, I'm pretty sure this recipe will make you fall head over heels in LOVE!
Cooking with a Crock Pot
You can make meals with a crock pot a ton of different ways! The general formula I use is protein + liquid + spices + veggies. Easy peasy! Cook on high for 3-4 hours and done.
For liquid, you can use vegetable broth, chicken broth or diced tomatoes. My protein is usually chicken, but you could also use other types of meat. For the veggies, you can chop them a bit thicker since they'll have time to soften.
One of my other favorite easy chicken crock pot recipes is using a can of diced tomatoes, chicken, chopped onions, carrots and potatoes. It's like crock pot chicken stew - perfect for winter days.
Maybe I'll make that a winter recipe! What do you think?
In this recipe, the chicken is cooked in salsa to keep it moist and tender. I think chicken and salsa go so well together, especially in the summertime.
Plus, this recipe is so easy to meal prep for the week ahead. Let's dig into the 3 basic ingredients you need for this easy and healthy dinner or lunch option.
Recipe Ingredients
Chicky! I like to get lean chicken breasts (about 90% lean or higher is a good rule of thumb).
Salsa! I love using salsa in recipes since it saves time and adds so much flavor. You can make your own salsa, but I just use a mild store-bought fresh-cut salsa to save time.
Cheese! I use queso fresco cheese. If your grocery store doesn't carry this, another favorite cheese would do fine like finely shredded Mexican cheese or mozzarella.
You can add other chopped veggies or extra spices. Sometimes I'll add chopped sweet onion, bell peppers and extra fresh minced garlic. If you like spice, try adding diced jalapeno and chili powder for an extra kick!
But it's not necessary. The spices and flavor from the fresh salsa do their job just fine! Also, I always use a fresh-cut salsa rather than the canned salsa. Personal preference, but if you're looking to get the same results, go fresh-cut!
Steps & Instructions
Place the chicken breasts at the bottom of the crock pot and pour the salsa over the top. Cover the crock pot and cook for 3-4 hours on high. The chicken should pull apart easily when it's done. If you have a thermometer, the internal temperature should reach 165 degrees Fahrenheit in the thickest part of the chicken breast.
Once the chicken is done cooking, you can sprinkle the cheese! I use queso fresco, which is a Mexican cheese. It's creamy and very mild in flavor. The cheese usually comes in a block, which you can crumble with your hands or use a cheese grater.
Sprinkle the queso fresco cheese on the cooked salsa covered chicken and close the lid on the crock pot. Let it sit for a few minutes (less than 5) and it'll be melted.
Another option is to shred the chicken. Since there's a bunch of liquid from the salsa, the chicken will mix in with the salsa and melted cheese to make a delicious taco meat. Salsa Fesca Chicken Tacos, anybody?
You can also eat the chicken by itself with the salsa and cheese on top like we did in these pictures below!
Serving Suggestions
Rice is our usual side dish when we eat this! We jazz up the rice with some lime juice, cilantro and salt to compliment the chicken. If you have some of the juicy salsa left over in the crock pot, mix the rice into it....it's so good!
Another good side to go with this meal is roasted veggies. Before roasting, drizzle a little olive oil, garlic powder, salt and pepper for delicious flavors that'll compliment the chicken.
Guacamole is another fabulous option! Try my 5 ingredient simple guacamole for an easy guac to whip up in 5 minutes.
Crock Pot Salsa Fresca Chicken
3 ingredient Crock Pot Salsa Fresca Chicken is an easy dinner and makes delicious leftovers for a healthy Mexican inspired meal!
Print
Pin
Rate
Ingredients
1.5

pounds

chicken breast

16

oz

container fresh-cut salsa

¾

cup

queso fresco cheese

cilantro for garnish

(optional)
Instructions
Place chicken breasts in the bottom of the crock pot and add the salsa on top. Cover the crock pot with the lid and cook on high for 3-4 hours

Sprinkle crumbled queso fresco cheese on top and cover for less than 5 minutes to allow the cheese to melt.

Garnish with cilantro if desired - enjoy!
Notes
Chicken is done when the internal cooking temperature is 165 degrees Fahrenheit in the thickest part of the chicken.

If you don't have queso fresco cheese, another favorite mild finely shredded cheese will do such as Mexican cheese or mozzarella. 
Nutrition
Calories:
197
kcal
|
Carbohydrates:
6
g
|
Protein:
28
g
|
Fat:
7
g
|
Saturated Fat:
3
g
|
Trans Fat:
1
g
|
Cholesterol:
83
mg
|
Sodium:
579
mg
|
Potassium:
655
mg
|
Fiber:
1
g
|
Sugar:
3
g
|
Vitamin A:
520
IU
|
Vitamin C:
3
mg
|
Calcium:
115
mg
|
Iron:
1
mg
(Nutrition values are calculated by third-party software and an estimate that can vary based on product brands and cooking methods.)
If you ever make a recipe, tag me on Instagram @monicanedeff.rdn I love seeing your creations and sharing them with the community! Please comment and give this recipe a star rating if you've made it as it greatly helps support this blog and my small biz, thank you!