This Super Simple Guacamole recipe is easy to make in 5 minutes using only 4 ingredients! Super easy and super delish!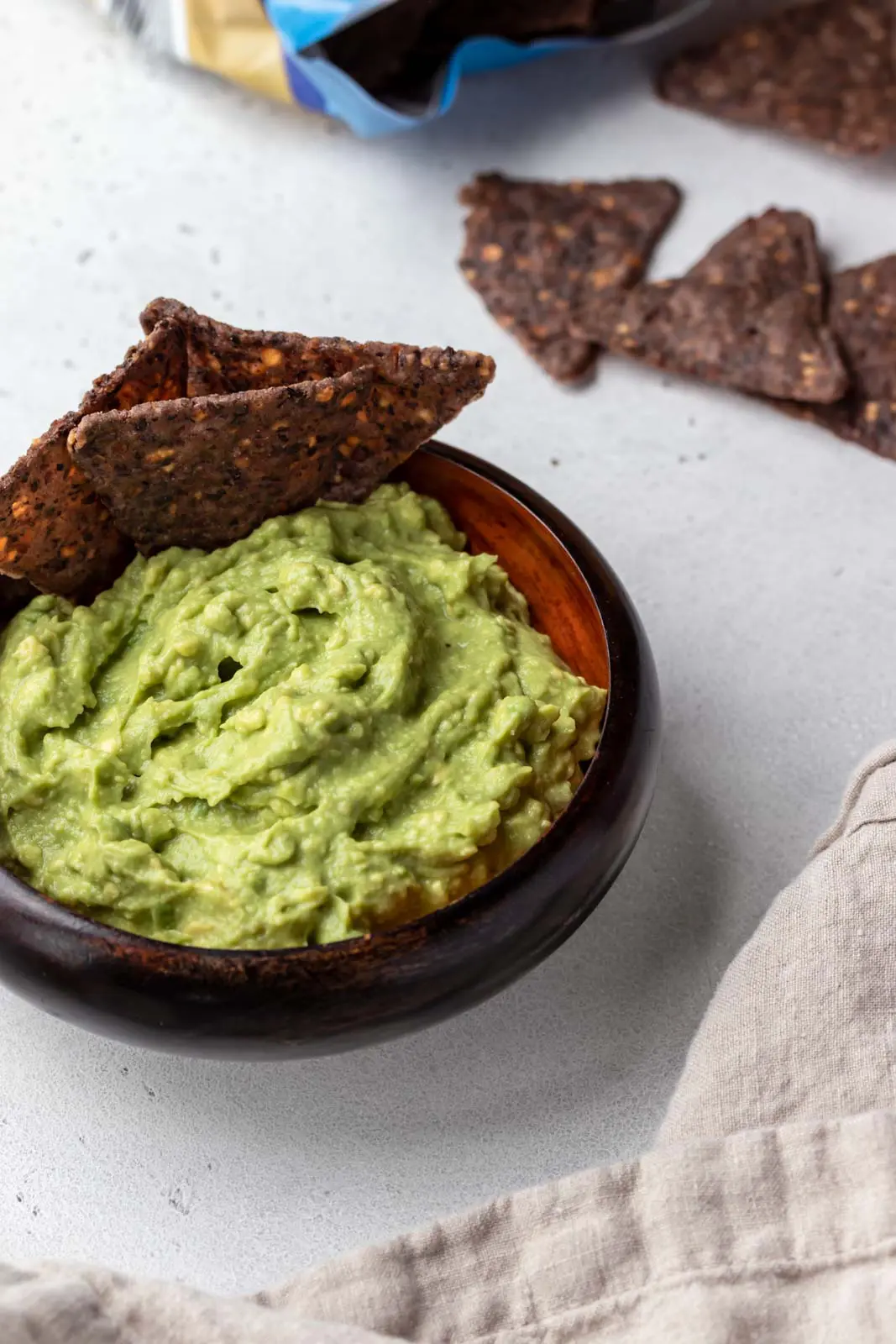 The 4 Ingredients
Avocados

:

In this recipe, I used two regular avocados but on the larger side. I usually like using the jumbo avocados when their availble though for the extra avocado!
Garlic: 1 large clove finely minced adds the perfect amount of garlicky flavor.
Lemon: Serious question: Are you a lemon or lime in guacamole kinda person? I know the traditional way uses lime, but I personally prefer guacamole with lemon! I like the flavor better with lemon juice, but lime works too. If you're out of fresh lemons or limes, try using bottled lime or lemon juice. Although, freshly squeezed juice is definitely the best!
Salt: Salt enhances the flavors and brings it all together. Add a smaller amount than you think you'll want and then taste and adjust as needed.
Steps and Avocado Tips
Guacamole really is a taste as you go kind of recipe. The amounts of salt and lemon vary depending on the size of avocados and of course, your taste preference.
But before we get into the recipe steps, a few avocado tips!
Ever wondered how to tell when your avocados are ripe? Gently press near the top by the stem and when you get a little give or softness - it's guacamole time!
If you need to ripen an avocado, place it in a brown paper bag and seal it shutting it from getting outside air. If you want to speed it up even more, add an apple or banana to the bag with the avocados to help the process.
Onto the recipe steps! Start by mashing up the avocado in a bowl with a fork or potato masher. Add the minced garlic, lemon juice and salt.
Stir to combine well. Taste and adjust salt and lemon as needed.
I usually use the juice of about half a lemon - I love the zesty flavor!
How to Keep Guacamole From Turning Brown
I learned this tip from others, and it's a life saver to keep that guac fresh!
To avoid the brown color that comes with exposure to oxygen, place saran wrap on the guacamole. Make sure to press the saran wrap into the bowl so that the wrap touches the guac. This reduces the exposure to oxygen, which slows the guacamole from turning brown.
Acidity helps as well, so you can never have too much lemon juice!
Upgrade Your Basic Guacamole
There's nothing wrong with basic guac, but if you're feeling ready for a change-up, here are some ideas!
Spicy Guacamole: Add jalapeno, cumin, paprika, cayenne pepper and red pepper flakes
Tropical Guacamole: Add pineapple, mango, or papaya to the mix
Harvest Guacamole: Add corn, beans and tomatoes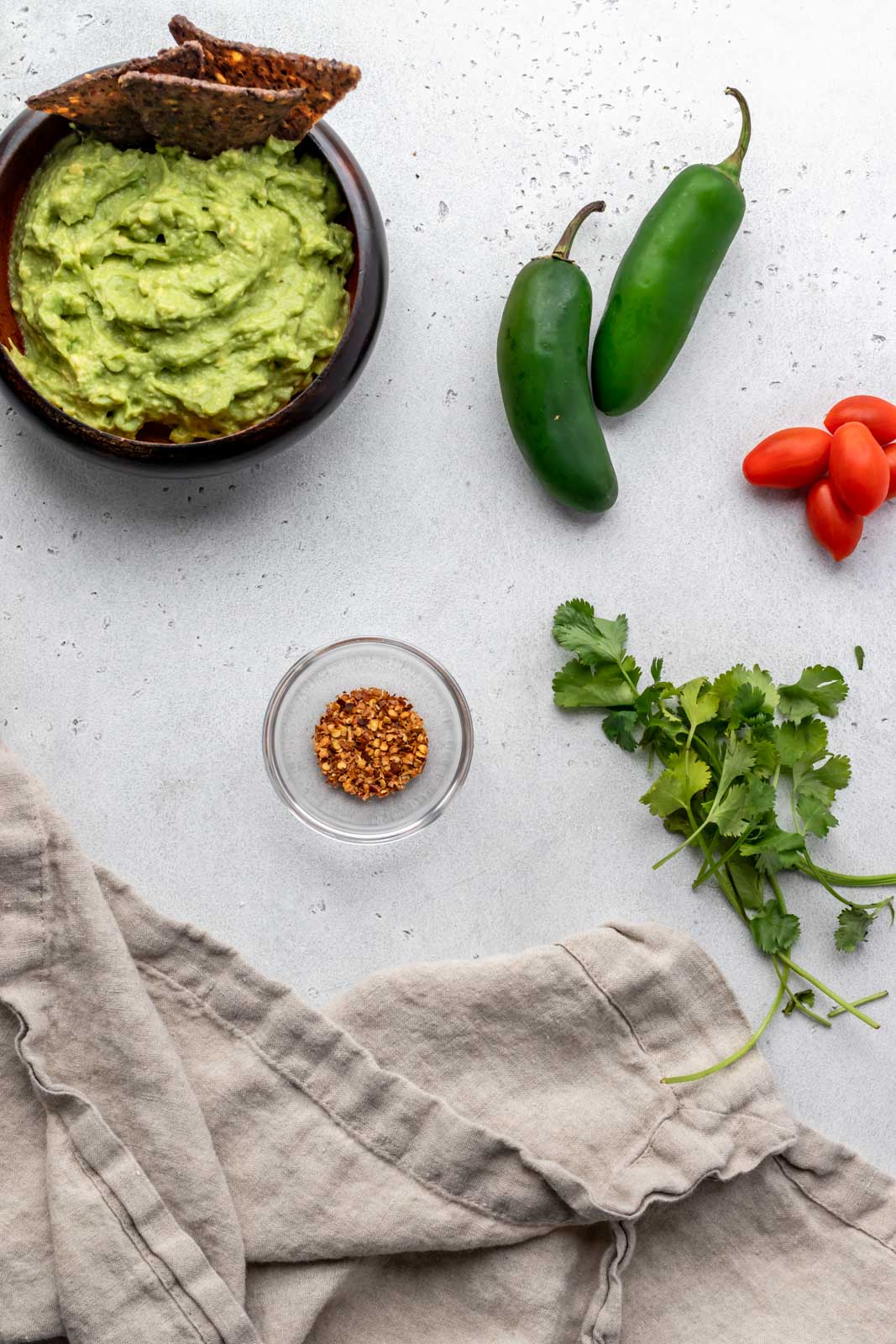 Here, I made a spicy guac with jalapenos and red pepper flakes, and I added some fresh flavor with cilantro and tomatoes. I love this mix of ingredients, but there are truly endless varieties of guacamole you can make.
Do you have a favorite guacamole spin-off? Let me know in the comments!
Creative Uses
Guac can go with so much! Try it as a toast spread, mix it in with salads and grain bowls. It makes a good sandwich addition or chip and veggie dip.
I know avocado toast was all the rage and tbh it's my breakfast 5 days out of the week, but if you have guac already made, you got avocado toast practically done with extra delicious flavor! Try it next time and let me know what ya think!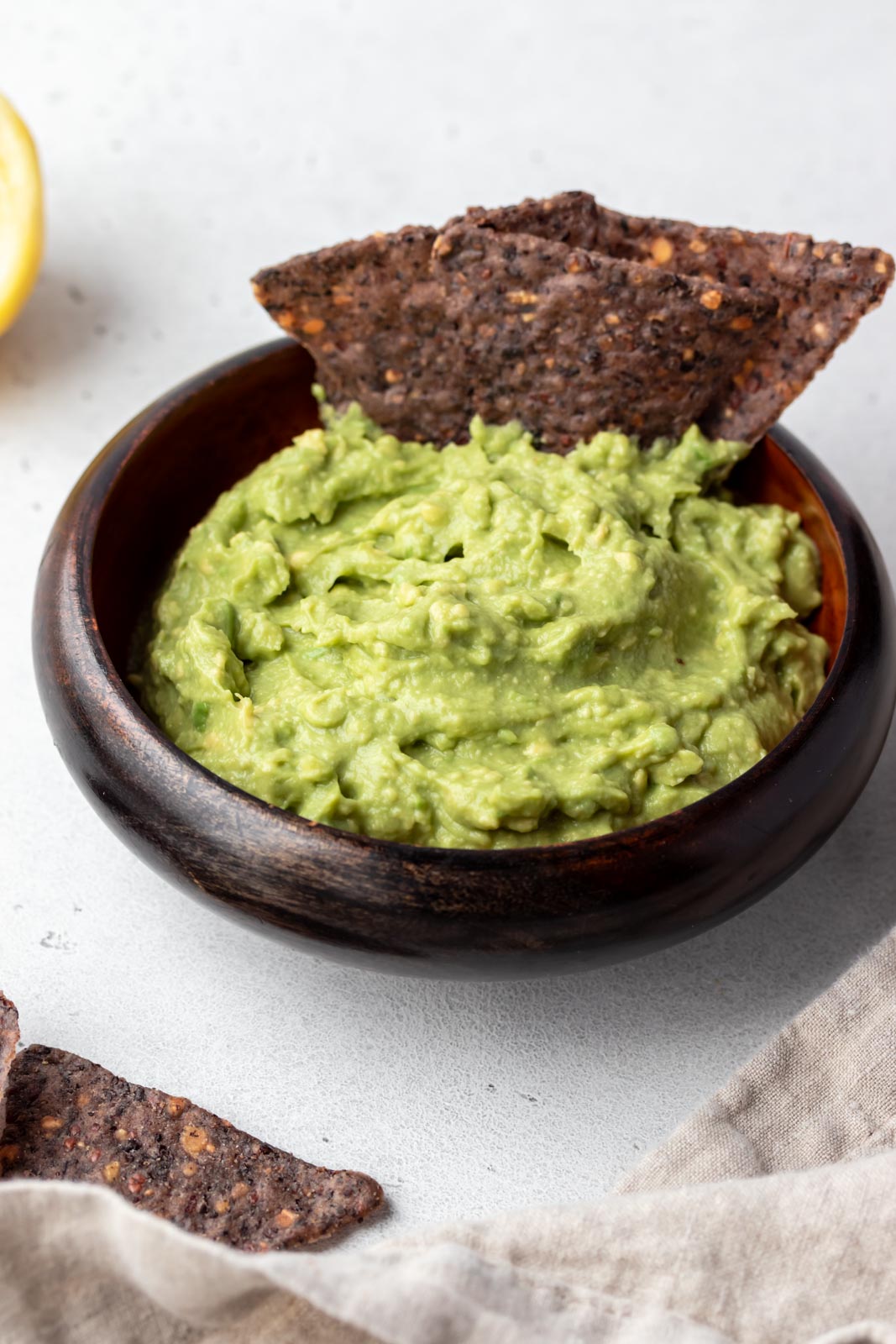 Recipe Tips and FAQs
Can you freeze guacamole?
Yes! The texture won't be as creamy, but it'll still have delicious flavor. Place extra guacamole in a zip lock bag and remove as much air as possible before sealing the bag and freezing.
How long will guacamole last in the refrigerator?
It'll last about 3-4 days, but it'll have optimal fresh taste the first 1-2 days.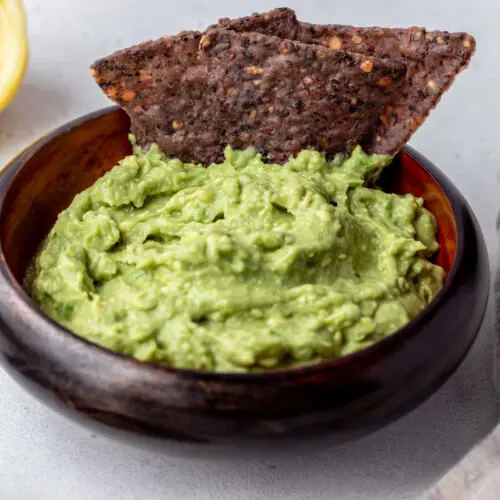 4 Ingredient Simple Guacamole with Lemon
This super simple guacamole is easy to make in 5 minutes! All you need is 2 avocados, lemon juice, garlic and salt.
Print
Pin
Rate
Ingredients
2

avocados

1.5

tablespoons

lemon juice

1

clove

minced garlic

½

teaspoon

salt
Instructions
Slice avocados lengthwise around the pit. Twist and pull avocados apart and remove the pit.

Using a spoon, scoop out the avocado from the 4 halves into a bowl and mash with a fork or potato masher.

Add the minced garlic, lemon juice and salt. Stir, taste and adjust as needed. Try starting with 1 tablespoon lemon juice and ¼ teaspoon salt if your avocados are on the smaller side.
Notes
The proportions of lemon juice and salt will depend on how large the avocados you use in your recipe and your preference. Start with less salt and juice than you think you need and taste test as you go to make sure you don't overpower the creamy avocado flavor....unless that's what you're going for! 
Other add-in ideas include: jalapeno, onion, cilantro, red pepper flakes, tomatoes, paprika and really anything your heart desires!
Nutrition
Calories:
163
kcal
|
Carbohydrates:
9
g
|
Protein:
2
g
|
Fat:
15
g
|
Saturated Fat:
2
g
|
Sodium:
298
mg
|
Potassium:
496
mg
|
Fiber:
7
g
|
Sugar:
1
g
|
Vitamin A:
147
IU
|
Vitamin C:
12
mg
|
Calcium:
14
mg
|
Iron:
1
mg
(Nutrition values are calculated by third-party software and an estimate that can vary based on product brands and cooking methods.)