This Strawberry Smoothie Bowl is made with kefir and full of gut-healthy probiotics. It's made with just 5 ingredients and is full of protein and strawberry vanilla flavor!
Smoothie bowls are all the rage on the internet, but have you tried a kefir bowl? If not, today is the day! I love changing up my usual smoothie bowl game with kefir. Plus, kefir is a great source of probiotics, calcium and protein.
If you're interested in learning more about the nutritional benefits of kefir, how to make smoothie bowls with it and how to make kefir at home yourself, read on.
Making Kefir Smoothies
Kefir goes so well in fruit smoothies! It has a tangy, creamy flavor. I used Lifeway's Strawberry Kefir. You can find it in most chain grocery stores. However, you can also make kefir from scratch at home!
I love doing this to save money and to use up milk that's starting to get close to the expiration date. Plus, it's full of probiotics, which are great in supporting the good bacteria in our gut.
Kefir has a thin consistency, so I use it in place of milk or almond milk in usual smoothies. In this recipe, I add a dollop of yogurt to add in extra creaminess and thickness, but the main ingredient is strawberry kefir.
Kefir vs Yogurt
What's the difference between kefir and yogurt? Here's the breakdown!
Kefir and yogurt are great sources of protein, calcium, vitamin D and probiotics. They're both cultured milk products, meaning they contain probiotics due to the fermentation process of milk with bacteria and yeast. Both, yogurt and kefir, are dairy products. However, kefir is usually 95% or more lactose-free. So, if you are lactose intolerant (not someone with a milk allergy) it may be something you can tolerate.
The difference? Kefir is made with more strains of bacteria and yeast and fermented for a longer period of time, producing more probiotics with a greater variety of strains. Yogurt is made with just bacteria. While both are great sources of probiotics, kefir definitely wins in terms of the amount and variety of probiotics! The other main difference is the texture. Kefir is thinner and more drinkable, while yogurt is thicker.
Make Your Own Kefir
To make your own homemade kefir you can use starter kits or starter grains. I use Yogourmet's Kefir Starter Kits, and they work well! I shared the process on my Instagram stories last week.
All you do is heat 1-quart milk over high heat on the stove. Once it reaches 180 degrees Fahrenheit, take it off the heat to cool it to room temperature. Then dissolve the packet of starter into the milk and mix well. Cover with saran wrap and let it sit at room temperature for 24 hours to allow it to ferment and thicken up. After 24 hours, stir the kefir and place it in the refrigerator for a few hours to stop the fermentation process and enjoy!
I usually just have kefir plain, but last week I decided to flavor it up! I asked you guys on social which flavor to do....mixed berries or pineapple mango. The votes came in and mixed berries won!
Here's what I did to make my plain homemade kefir into berry: In a blender, I added 1 cup plain homemade kefir, ½ cup frozen berries and a drizzle of honey. I found it too tart without honey (and I love tart things), so I think it needed a little sweetness. It blended up pretty thick, but as it sat in the refrigerator it became a thinner consistency like typical kefir.
It tasted great, so I'll be doing this more often with other fruit! You could definitely use this method to make your own homemade strawberry kefir by using frozen strawberries. Give it a try and let me know how it turns out for you!
Kefir Bowl & Topping Ideas
Are you sold on making kefir smoothie bowls now? Here's the recipe full of strawberry flavor to kick start your summer smoothie season!
Add a ½ cup strawberry kefir, ¼ cup Greek yogurt, ½ cup frozen mixed berries, ½ teaspoon honey and a ¼ teaspoon vanilla into a blender and blend well. Pour into a bowl and top with your favorite smoothie bowl toppings. I used chia seeds, granola and fresh strawberries. However, I really wanted to add in some cacao nibs! I think that would have been divine!
Other smoothie bowl topping ideas: coconut flakes, hemp seeds, ground flaxseed or sliced almonds
Other Kefir & Smoothie Recipes
As you can tell from this post, I have a serious love for kefir! For more kefir-inspired recipes, check out my pumpkin spice kefir smoothie - perfect for enjoying during the beautiful fall days.....but honestly, really good any time of the year!
Other smoothie recipes include my mango strawberry smoothie and chocolate chia seed smoothie.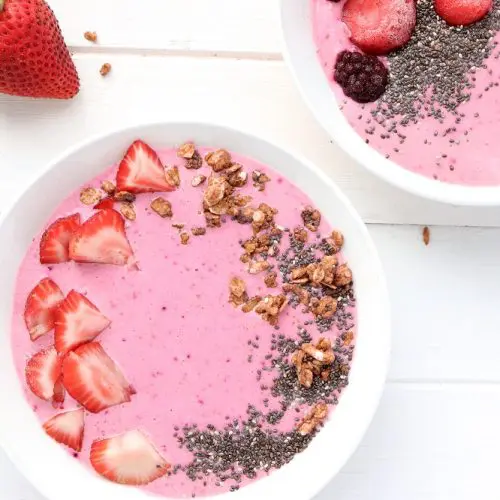 Strawberry Smoothie Bowl
This Strawberry Smoothie Bowl is made with kefir and full of gut-healthy probiotics. It's made with just 5 ingredients and is full of protein and strawberry vanilla flavor!
Print
Pin
Rate
Servings:
1
smoothie bowl
Ingredients
½

cup

strawberry kefir

¼

cup

plain Greek yogurt

½

cup

frozen mixed berries

¼

teaspoon

vanilla

½

teaspoon

honey
Instructions
Add all the ingredients into a blender and blend well.

Pour into a bowl and top with your favorite toppings!
Notes
Topping Ideas: fresh strawberries, cacao nibs, chia seeds, granola, coconut flakes, hemp seeds, ground flaxseed or sliced almonds
Nutrition
Calories:
171
kcal
|
Carbohydrates:
21
g
|
Protein:
10
g
|
Fat:
6
g
|
Saturated Fat:
3
g
|
Cholesterol:
18
mg
|
Sodium:
87
mg
|
Potassium:
45
mg
|
Fiber:
2
g
|
Sugar:
18
g
|
Vitamin A:
314
IU
|
Vitamin C:
2
mg
|
Calcium:
223
mg
|
Iron:
1
mg
(Nutrition values are calculated by third-party software and an estimate that can vary based on product brands and cooking methods.)