This fruit smoothie is packed with tropical goodness and protein, thanks to the Greek yogurt! Give the usual strawberry banana smoothie a change-up with mango for a delicious drink.
Smoothies are an easy and quick way to make breakfast or have as a snack. This smoothie serves up a good amount of protein, so it's filling and not just satisfying!
I love a good strawberry banana smoothie, but let's make it tropical. Mango adds a touch of sweetness and goes so well with the strawberries and banana.
I've trialed this recipe with half a banana, less strawberries, frozen strawberries, etc. So I think I've found the perfect combo of frozen to fresh fruit and ratios. I hope you love this fruity smoothie!
Ingredients
This recipe is super easy and simple with only 4 ingredients (if you don't include the lemon juice): mango, strawberry, banana and yogurt.
Mango: frozen is what I use, but you can also chop up a fresh ripe mango and freeze it in a bag to use later in smoothies.
Strawberries: I use fresh ones in this recipe. Since they have a good amount of water content, they help keep things smooth.
Banana: 1 ripe banana! Not unripe, so if it has some brown spots on it - it's good for this smoothie! If you're unsure how much banana to use, slice it up and use 1 cup.
Greek yogurt: Packed with protein and creaminess! If you use regular yogurt, the consistency of the smoothie will be thinner just FYI. You may need to add some ice or freeze the strawberries or banana to get that thicker consistency.
Lemon Juice (optional): I love a little tart citrus flavor, but up to you!
If you tend to add a little honey or sweetener to smoothies, you'll probably find this smoothie recipe is sweet enough with just the fruit.
I occasionally add the lemon juice to cut the sweetness and add a little bit of bright citrus flavor, but it's totally optional!
Blend the Smoothie
Start with blending your softest ingredients. Basically, anything that is not frozen, blend first! In this recipe, that's the strawberries, banana and yogurt.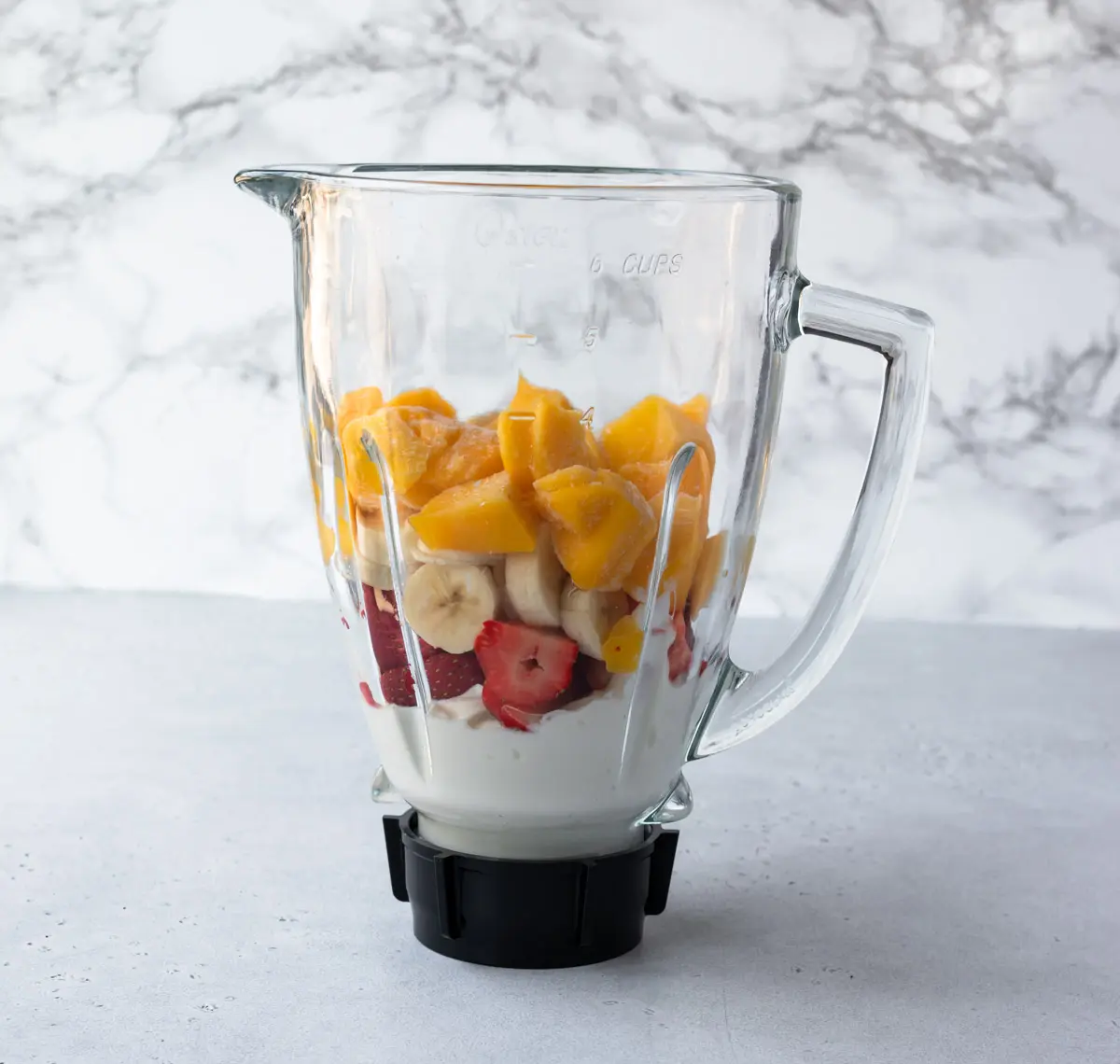 I like blending my smoothies this way so that the frozen items blend up more easily. Depending on the quality of the blender you have on hand, you may need to work at getting it mixed well. With my blender, I have to stop occasionally to stir things up.
It should pour out thick and smooth! The perfect consistency for slurping with a straw!
Smoothie Toppings!
You can add chia seeds, flax seeds or hemp seeds for extra vitamins, minerals, healthy fats and protein! If I add these into a smoothie, I stir them in at the end so they don't get stuck in my blender.
Try sprinkling coconut flakes on top or adding more fruit slices. I cut about a half inch slit in the bottom of my strawberry to get it to sit on the glass.
If enjoying for breakfast, add some granola on top for added crunch.
Meal Prep this Smoothie
Freezing fruit and veggies is a great way to have produce on hand in the long haul. Besides buying frozen fruit and vegetables, you can meal prep smoothie baggies!
If you have strawberries and bananas that have seen better days, throw them in a baggie and freeze. While the texture may be a bit off since all the fruit is frozen, you can allow the fruit to soften by running the baggie under warm water before blending.
More Breakfast Recipes
Want more smoothie inspo? Check out my rich chocolate chia seed smoothie and strawberry kefir smoothie bowl for more smoothie ideas!
For other delicious breakfast recipes try my Mediterranean kale omelette or ground turkey sweet potato skillet. Both are great for more savory breakfasts!
Mango Strawberry Banana Smoothie
Quick & easy to make, this tropical fruit smoothie with just 4 ingredients: Greek yogurt, fresh strawberries, ripe banana and frozen mango, is full of delicious tropical flavor & protein to help keep you full! Plus, tips on how to prep the recipe into smoothie bags so you can whip one up in a jiffy!
Print
Pin
Rate
Ingredients
1

cup

Greek yogurt

1

cup

chopped fresh strawberries

1

ripe banana

(or one cup sliced)

1

cup

chopped frozen mango

1

tablespoon

lemon juice

(optional for added tartness)
Instructions
Blend Greek yogurt, chopped strawberries, banana and lemon juice (if including it) until smooth.

Add frozen mango and blend until smooth, add any toppings and enjoy!
Notes
This smoothie is thick! So if you prefer a thinner consistency add a dash of milk or non-dairy milk alternative.
I love the added bright zesty flavor from the lemon juice, but it's optional. If you're in the mood for a sweet fruit smoothie, omit it!
If you can't get frozen mango, chop up a fresh ripe mango and freeze it in baggies.
Topping options: chia seeds, flaxseed, hemp seed, coconut flakes, sliced fresh fruit.
Meal prep option: Freeze the strawberries, bananas and mango in baggies and when ready to make the smoothie, run the baggie under warm water to help soften the fruit. The consistency will be thicker so add milk or a milk alternative to help get your desired consistency.
Nutrition
Calories:
188
kcal
|
Carbohydrates:
30
g
|
Protein:
13
g
|
Fat:
3
g
|
Saturated Fat:
1
g
|
Cholesterol:
7
mg
|
Sodium:
48
mg
|
Potassium:
398
mg
|
Fiber:
4
g
|
Sugar:
21
g
|
Vitamin A:
559
IU
|
Vitamin C:
65
mg
|
Calcium:
152
mg
|
Iron:
1
mg
(Nutrition values are calculated by third-party software and an estimate that can vary based on product brands and cooking methods.)