Cacao Powder Hot Chocolate is a 5 ingredient cup of joy! Made with your personal preference for milk, cacao powder, brown sugar, vanilla extract and a heavy sprinkling of cinnamon!
This homemade hot chocolate is a creamy, rich drink - perfect for cold winter days! No need for packets of hot chocolate when you got these ingredients stocked up in your pantry!
What is Cacao Powder?
Ever wondered what the difference is between cacao powder and cocoa powder? They have the same letters just placed differently! They probably seem interchangeable, but are they?
Read on if you're curious to learn why cacao has been talked about so much. There's been a lot of hype around cacao for nutritional benefits, so here's the rundown!
Cacao Powder vs Cocoa Powder
They both start out the same - from the cacao bean. Ever heard of cacao nibs? They're the cacao beans finely ground up into small pieces.
Cacao powder and nibs are raw and unprocessed and contain the most nutritional benefits.
When cacao beans are roasted and ground up, it becomes cocoa powder. The high temperatures of the roasting process reduce the amount of nutritional properties like polyphenols, which are plant properties and a type of antioxidant that plays a protective role in our health.
However, cocoa powder still has great nutritional value too!
Cacao powder can be expensive. When you compare it to cocoa powder it can be more affordable to buy cocoa powder. So, know you can make the recipe with cocoa powder too!
Cacao powder will taste a bit more bitter but in my opinion - more chocolatey!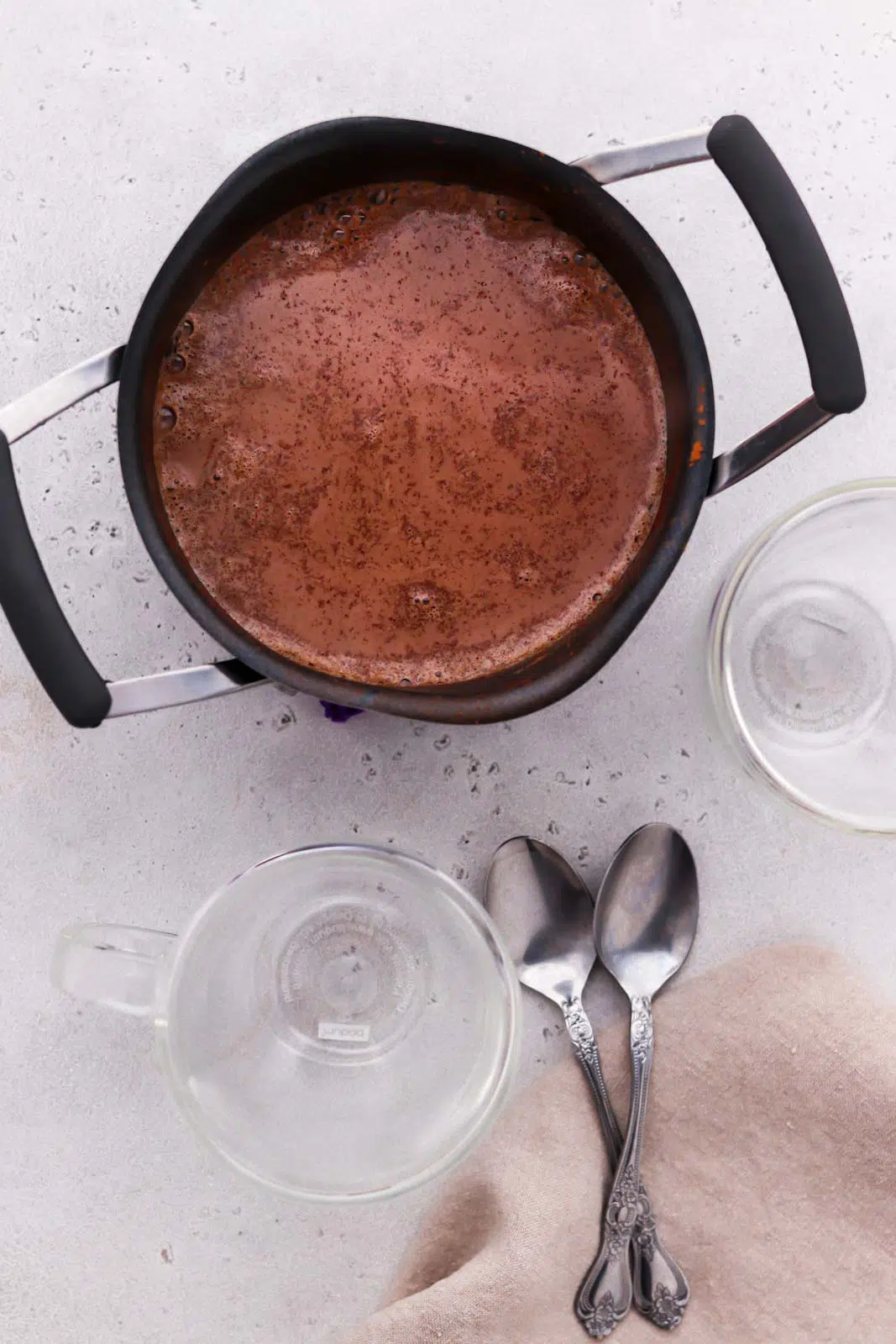 How to Use Cacao Powder
Now that we've talked about cacao, you may be wondering how else to use it!
Here's some other ideas for ways to incorporate the rich, chocolatey flavor in your food and drinks:
Oatmeal: Have a fiber rich breakfast with oatmeal and add in some more fiber with cacao!
Smoothies: Instead of a fruit smoothie try a chocolate smoothie.
Yogurt: Stir it in your yogurt for snacks or for your protein at breakfast.
Coffee: who doesn't like coffee and chocolate?!
Granola: I love making

homemade granola

and it can bring out all the chocolatey flavor!
Seasoning for Meats: Use it as a rub on meats with other seasonings like paprika and chili powder.
Ingredients
This drink is super easy to make and takes little time! You can use a microwave or stove to heat up your milk and whisk in the rest of the ingredients.
Milk: use whatever milk you prefer! I use cow's milk, but you could you non-dairy alternatives as well to make the beverage vegan.
Cacao Powder: I find cacao has a rich chocoaltey taste that is just divine! You can substitute cocoa powder instead though if it's the only thing you have on hand!
Brown Sugar: You could use white sugar, maple syrup or honey as sweeteners but there is something about brown sugar that adds a caramel flavor you can't pass up!
Vanilla Extract: It adds just the right touch of vanilla creaminess
Cinnamon: Cinnamon and chocolate pair so well together! I honestly think this is key - sprinkle a ton in!
Recipe Tips and FAQs
Can I replace the cacao with cocoa powder?
You can! Just know cacao powder is more bitter and chocolatey, so the taste may be a bit different.
How can I get the cacao to blend in smoothly?
It should whisk in just fine, but if you find it not blending in smoothly try sifting it before adding it to the milk.
Can I give this away as a gift?
Definitely! You can prepackage the dry ingredients in a small mason jar or plastic packet and put instructions on the lid to let the person know they just need to add milk and vanilla extract!
More Winter Treats
Grinch Cookies: Enjoy these green crinkle cookies with a red candy heart in the center - perfect for you or anyone who loves the classic Christmas movie!
Spiced and Glazed Walnuts: These are another easy gift to give away at Christmas time. We all need easy gift ideas and these spiced walnuts glazed with brown sugar do just the trick!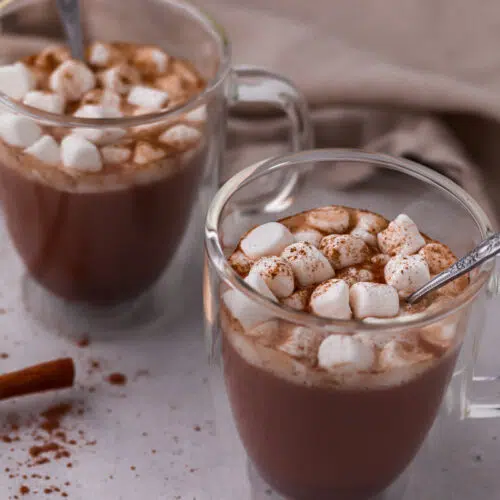 Cacao Powder Hot Chocolate
Try this Healthy Hot Chocolate made with just 5 ingredients: milk, cacao powder, brown sugar, vanilla and cinnamon!
Print
Pin
Rate
Ingredients
2

cups

milk

3

tablespoons

cacao powder

2

tablespoons

brown sugar

(packed)

½

teaspoon

vanilla extract

heavy sprinkling of cinnamon

(at least a heaping ¼ teaspoon or more for 2 drinks)
Instructions
Heat your milk up in a mug in the microwave or on a pot on the stove.

Top with whipped cream, marshmallows, sprinkle of cinnamon or chocolate shavings
Notes
You can substitute the cocao powder for cocoa powder.
If needed to help the cacao powder dissolve easily, sift the cocao powder before adding it to the milk to help everything whisk together smoothly.
Give it away as gifts in jars or plastic giveaway bags!
Nutrition
Calories:
165
kcal
|
Carbohydrates:
28
g
|
Protein:
9
g
|
Fat:
3
g
|
Saturated Fat:
2
g
|
Polyunsaturated Fat:
1
g
|
Monounsaturated Fat:
1
g
|
Cholesterol:
12
mg
|
Sodium:
109
mg
|
Potassium:
487
mg
|
Fiber:
3
g
|
Sugar:
24
g
|
Vitamin A:
463
IU
|
Vitamin C:
1
mg
|
Calcium:
317
mg
|
Iron:
1
mg
(Nutrition values are calculated by third-party software and an estimate that can vary based on product brands and cooking methods.)