Papaya Bowls make a delicious, healthy breakfast or snack. Load them up with your favorite toppings like granola, fresh fruit, chia seeds and yogurt for a filling and satisfying meal.
Remember when zucchini boats took the world by storm? Well, if you ask me, these look like papaya boats!
I'm all about simple recipes like taking a veggie or fruit and turning it into a main dish by stuffing it with yummy ingredients. So, this felt like a fun, easy recipe - jump on board! Time to make some papaya boats!
What Does Papaya Taste Like?
Have you ever had papaya? If not, I highly recommend trying it plain! Papaya has a buttery flavor. It's very sweet when ripe and super bitter when unripe, which is why I always make sure it's ripe before slicing.....otherwise, it isn't too tasty.
Nutritional Profile
Papaya is nutritious too. Full of fiber, folate, antioxidants, vitamin A and C. Papain is a digestive enzyme found in papaya and helps aid protein digestion.
Peak season is summer into early fall, so it's still a great time to buy papayas!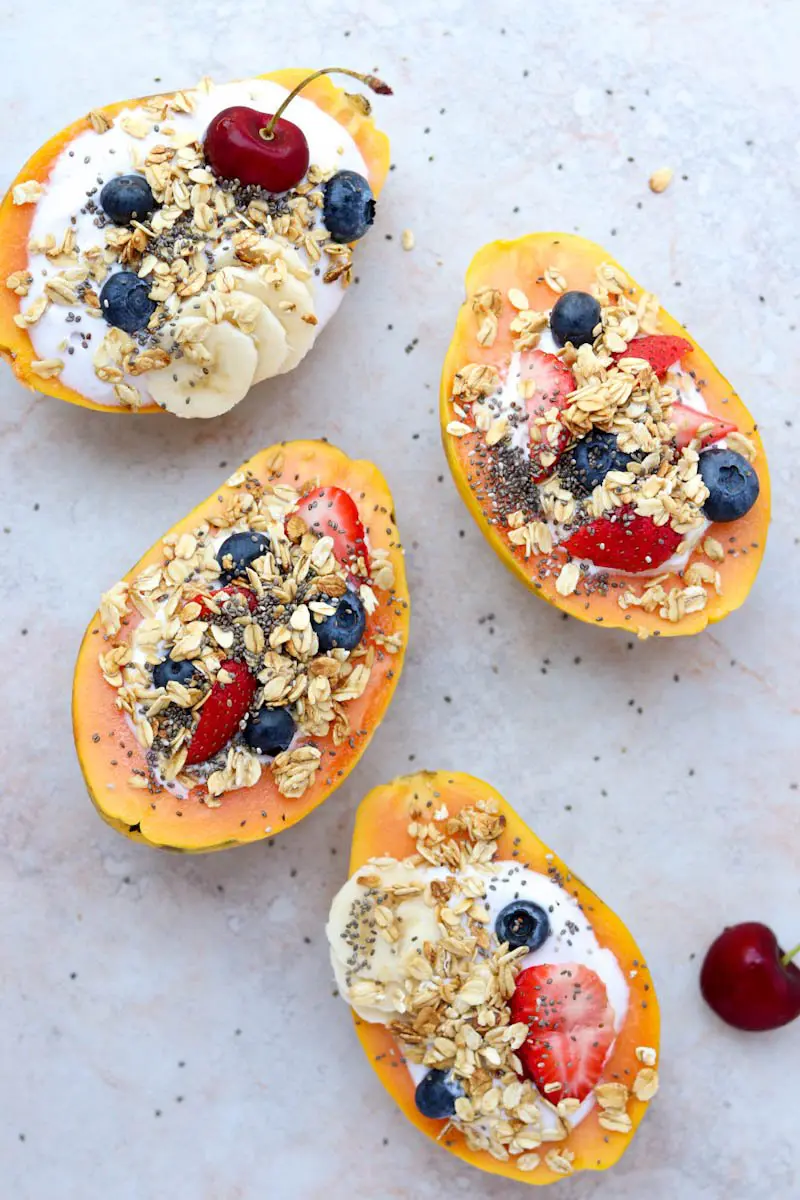 Tropical Vibes
This recipe makes me think of something I would eat in Bali, Hawaii or another tropical destination. I remember eating so many mangos and papayas in Hawaii last summer, and they were out of this world good!
While we may not be taking our usual summer vacations this year, we can still transport our taste buds. So, let's go somewhere tropical with this week's recipe!
Making Papaya Boats
Pretty simple! Just 4 steps to a delish, tropical-inspired breakfast.
Cut the papaya lengthwise. You'll know your papaya is ripe when you gently press near the stem and the fruit gives back a little. The skin of the papaya will become more yellow than green when it becomes ripe.
Scoop out and discard the black seeds with a spoon. Fun fact: Papaya seeds are

edible

! They have a peppery flavor. Try throwing them in a salad if you want to try them in food.
Fill the bottom of your boats with 1 cup yogurt. I sometimes do plain yogurt with honey or use a single-serving container of flavored Greek yogurt. If you have smaller papayas, like the ones I have in the above pictures, you may need to carve out more of the center to make room or just use less yogurt.
Add the rest of your toppings to your papaya boats! I add a bit more fruit, chia seeds and granola.
Recipe FAQ & Tips
Can I use a large papaya?
Absolutely! I used smaller papayas because that's all that my local grocery store has right now. Larger papayas work just fine too!
How do I know when my papaya is ripe?
Shades of yellow, red and orange mean the papaya is ripening. Papayas that are mostly green are typically unripe. Gently press near the stem of the papaya. If you get a little give then, it's ready for eating.
Can I meal prep this recipe?
When it comes to eating fruit, it's best to eat it right after you slice it. Therefore, I'd recommend not meal prepping this recipe, and enjoy the papaya boats shortly after you make them.
What if I am making only one serving and need to save the other half of papaya? How can I store it so that it won't go bad?
Wrap the leftover papaya half in saran wrap to prevent as much oxygen exposure as possible. Store in the refrigerator and eat within 3 days.
Let me know if you try this fun recipe! It's super easy and delish to make. Drop any other toppings ideas too. I always love changing it up!
If you need more breakfast ideas, then check out my farro breakfast bowl for another healthy bowl recipe or my strawberry kefir smoothie bowl for more sweet, tropical flavors!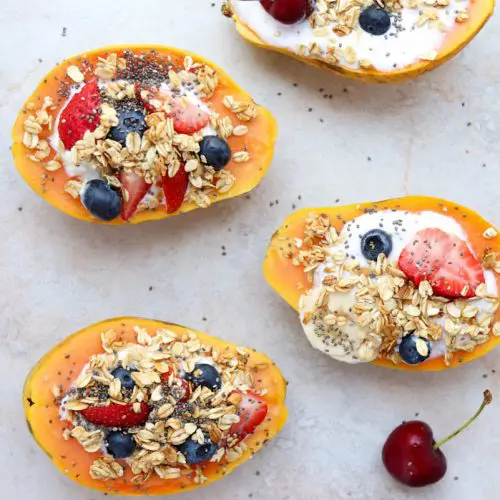 Breakfast Papaya Bowl
Papaya Bowls are an easy, healthy tropical breakfast recipe. Slice, scoop & top your papaya with yogurt, chia seeds, granola & fruit.
Print
Pin
Rate
Ingredients
1

ripe papaya halved lengthwise with seeds removed

2

cups

yogurt

½

cup

granola

2

teaspoons

chia seeds

additional toppings

(Ideas: fresh fruit, flaxseed, wheat germ, nuts, seeds, honey)
Instructions
Slice the papaya in half lengthwise and remove the seeds with a spoon.

Fill the center of each papaya half with 1 cup yogurt, ¼ cup granola, 1 teaspoon chia seeds, additional fruit or other toppings - enjoy!
Notes
This recipe is best to be made the morning of eating instead of meal prepping.
Seeds are discarded in this recipe. However, the papaya seeds are edible if you want to eat them.
The skin of the papaya will turn shades of yellow, red and orange when it's ripe. When gentle pressure is applied, the skin should give a little once ripe and ready for eating. 

If you have a smaller papaya, like the ones in these pictures, you may need to carve out the center of the papaya to make enough room for yogurt or use less yogurt.

For yogurt, you can use a single-serving container or scoop it out of a larger container.
Nutrition
Calories:
345
kcal
|
Carbohydrates:
46
g
|
Protein:
25
g
|
Fat:
8
g
|
Saturated Fat:
1
g
|
Trans Fat:
1
g
|
Cholesterol:
10
mg
|
Sodium:
95
mg
|
Potassium:
693
mg
|
Fiber:
6
g
|
Sugar:
25
g
|
Vitamin A:
1454
IU
|
Vitamin C:
93
mg
|
Calcium:
302
mg
|
Iron:
2
mg
(Nutrition values are calculated by third-party software and an estimate that can vary based on product brands and cooking methods.)
If you ever make a recipe, tag me on Instagram @monicanedeff.rdn I love seeing your creations and sharing them with the community! Please comment and give this recipe a star rating if you've made it as it greatly helps support this blog and my small biz, thank you!