This pantry staple Chicken Salad with Walnuts and Cranberries is easy to make with ingredients you probably already have on hand!
This chicken salad recipe is made with canned chicken, mayo, Greek yogurt, dried cranberries, toasted walnuts, celery, onion, lemon juice and lots of spices. The creaminess and blend of flavors in this salad is delish!
The mayo Geek yogurt blend is just the right amount so that the chicken isn't drowning in the sauce. Ever had a chicken salad that was super drippy? Eckkk not my vibe.
I prefer a more crunchy texture with all the walnuts and celery. But if super well dressed chicken salad is your vibe, then just add more mayo and Greek yogurt - you do you!
Ingredients
Check that pantry - I bet you have these ingredients waiting for you!
Canned Chicken: I always have canned chicken in water on hand to whip up an easy meal. If you have actual chicken breast, you can always cook it and chop it into pieces and use it in place of the canned chicken.
Mayo: A must with chicken salad. However, I'm not a big fan of super mayo tasting dressings, which is why I added Greek yogurt.
Greek yogurt: I love the creaminess it adds to the chicken and thickness. All the ingredients really pack and stay together well.
Dried cranberries: I love the sweet, tartness from cranberries, and I have so many leftover from the holidays. If you don't have dried cranberries on hand, raisines will do!
Toasted walnuts: Oh I love the flavor of toasted walnuts - the rich nuttiness is sooo good!
Celery: gotta get that crunch
Onion: just a wee bit
Lemon juice: need a little bit of something acidic. If you don't have lemon juice on hand, try apple cider vinegar or another vinegar.
Spices: The best part of chicken salad if you ask me! I added in dill, cumin, garlic powder, salt and pepper. You can use fresh dill if you have it but dried works just fine!
To make the salad, all you gotta do is measure the ingredients in a bowl and mix well. So simple easy - the best kinda recipe if you ask me!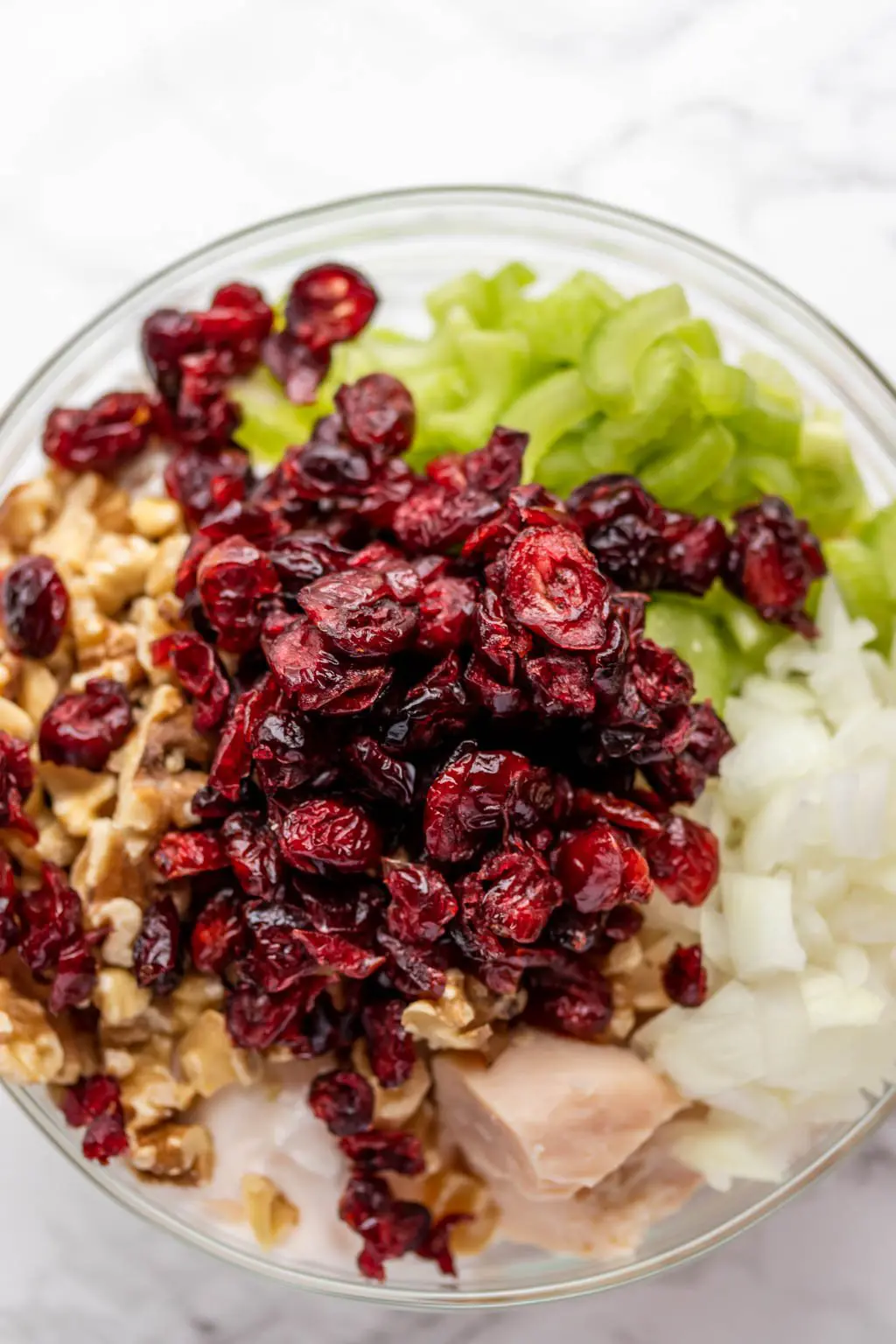 How to Toast Walnuts
This recipe calls for toasted walnuts, which I find divine! If you've never toasted walnuts before, it's super easy!
All you gotta do is heat a small pan over medium heat, add your walnuts and stir until golden brown and toasty! No need to add oil, literally just walnuts in a pan over medium heat and you're good!
It'll take around 5 minutes, depending on how toasted you want them. You can use the same method with almonds, pecans and other nuts and seeds to bring out their buttery, nutty flavor!
Serving Suggestions
How to eat chicken salad? There are so many options!
Of course, there's the classic chicken salad sandwich, but there are other options too! Swap the bread for a wrap or pita bread for a change. Try layering the chicken on salad greens or on whole lettuce leaves for a quick lunch.
For a snack, use the chicken salad as a topper on crackers.
Love a good melt? Butter up two slices of bread and layer the chicken salad with your favorite cheese in the middle. Cook on a heated skillet and enjoy! You could do the same type of thing with a panini maker or quesadilla.
With so many options of using chicken salad, I think it's a great meal prep recipe. Prep it on Sunday and have it ready to go for the week ahead. Store it in a large container and scoop out and add it into the different meals as you go throughout the week.
If you need some chicken salad variety in your life, check out my other chicken salad recipe, Guacamole Chicken Salad, for another delish variation - happy cooking!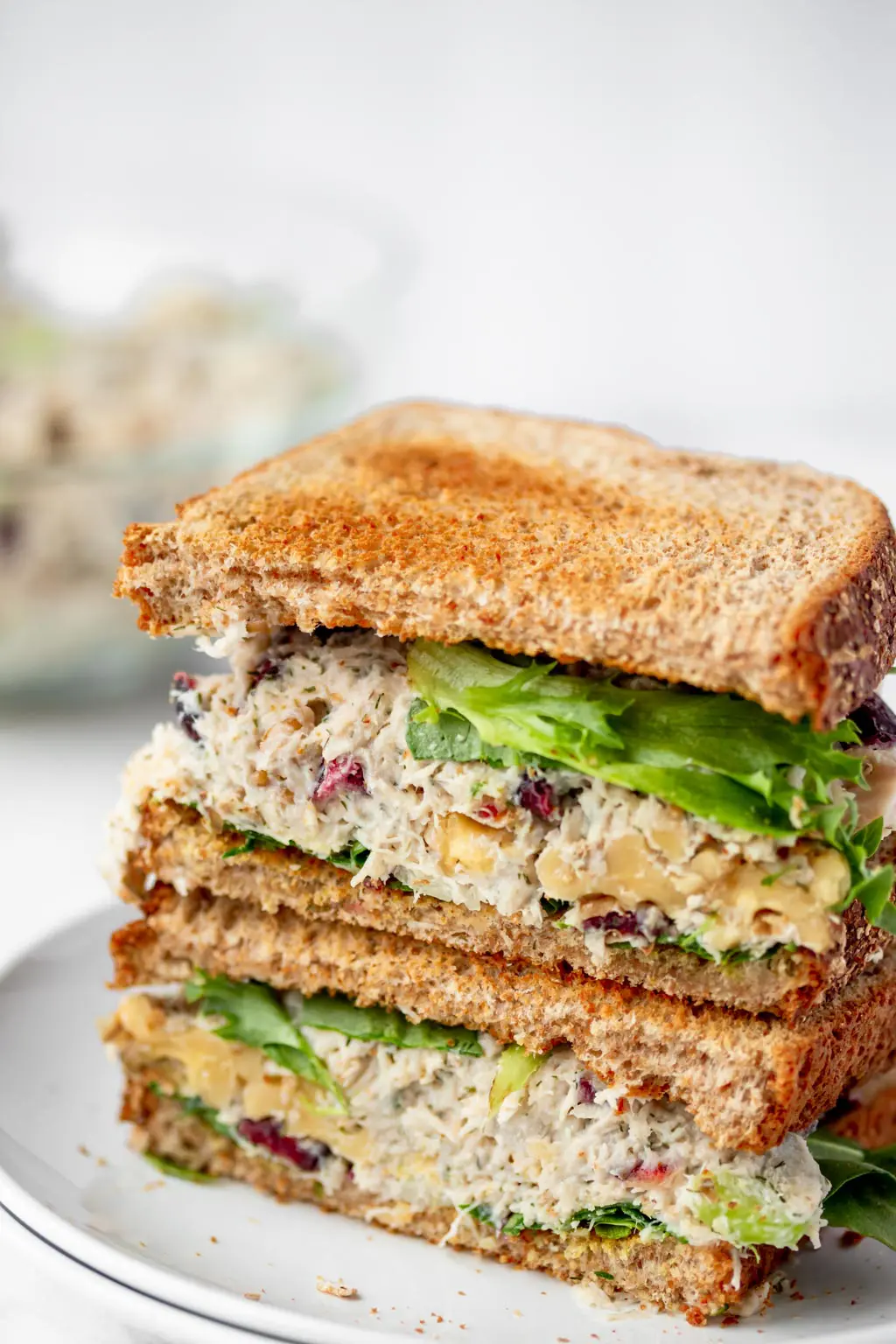 Recipe Tips & FAQs
Will roasting the nuts change the nutritional value?
Great question! Roasting at not too high of a temperature and for a short period of time is just fine. Antioxidants and some vitamins and minerals may be lost when roasted at super high heat for long periods of time. If you want to read more details on this fun nutrition topic check this article out by a fellow dietitian 🙂
How long can I store the chicken salad?
Up to a week after you've prepared the chicken salad.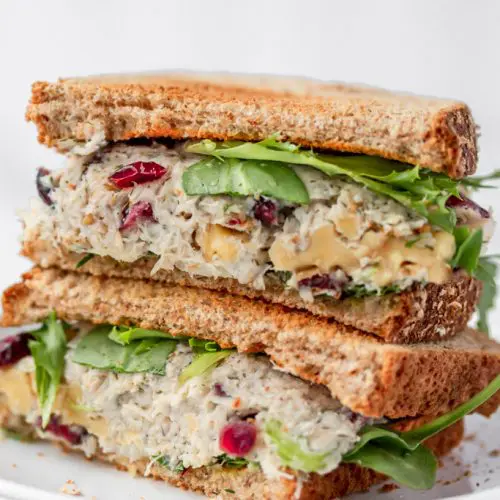 Cranberry Walnut Chicken Salad
Toasted walnuts and dried cranberries add savory deliciousness to traditional chicken salad! This pantry staple recipe is easy to meal prep and has a delish healthy twist with Greek yogurt. Enjoy on crackers, as a sandwich or create a salad with it!
Print
Pin
Rate
Ingredients
2 ½

cups

canned chicken in water drained (2 14oz containers)

½

cup

mayo

⅓

cup

Greek yogurt

¾

cup

dried cranberries

⅔

cup

chopped walnuts

½

cup

chopped celery

⅓

cup

chopped onion

1

tablespoon

lemon juice

2

teaspoons

dried dill

1

teaspoon

ground cumin

½

teaspoon

garlic powder

½

teaspoon

salt

¼

teaspoon

ground black pepper
Instructions
In a large mixing bowl add all the ingredients and mix well.

Serve chilled with crackers, on toasted bread, on a bed of salad greens or enjoy as is!
Notes
To toast walnuts, heat a small pan over medium heat. Add the walnuts and stir until golden brown (around 5 minutes). No need to add oil.
Substitution options:

lemon juice: apple cider vinegar or another vinegar
dried cranberries: raisins or grapes
canned chicken: chopped cooked chicken breast

Meal Ideas:

sandwich/wrap/pita bread
melt with cheese
salad topper on a bed of greens or scooped on whole lettuce leaves
cracker or chip topper
Nutrition
Calories:
362
kcal
|
Carbohydrates:
19
g
|
Protein:
6
g
|
Fat:
32
g
|
Saturated Fat:
4
g
|
Trans Fat:
1
g
|
Cholesterol:
8
mg
|
Sodium:
327
mg
|
Potassium:
209
mg
|
Fiber:
3
g
|
Sugar:
12
g
|
Vitamin A:
86
IU
|
Vitamin C:
2
mg
|
Calcium:
61
mg
|
Iron:
2
mg
(Nutrition values are calculated by third-party software and an estimate that can vary based on product brands and cooking methods.)