Maple Glazed Salmon Buddha Bowl is a delicious and easy lunch or dinner! Fill your salmon buddha bowl with rice, beans, roasted broccoli and sweet potatoes for an easy gluten-free meal! Make sure to drizzle the maple tahini dressing over the bowl of fixings to top off this sweet, yet savory dish.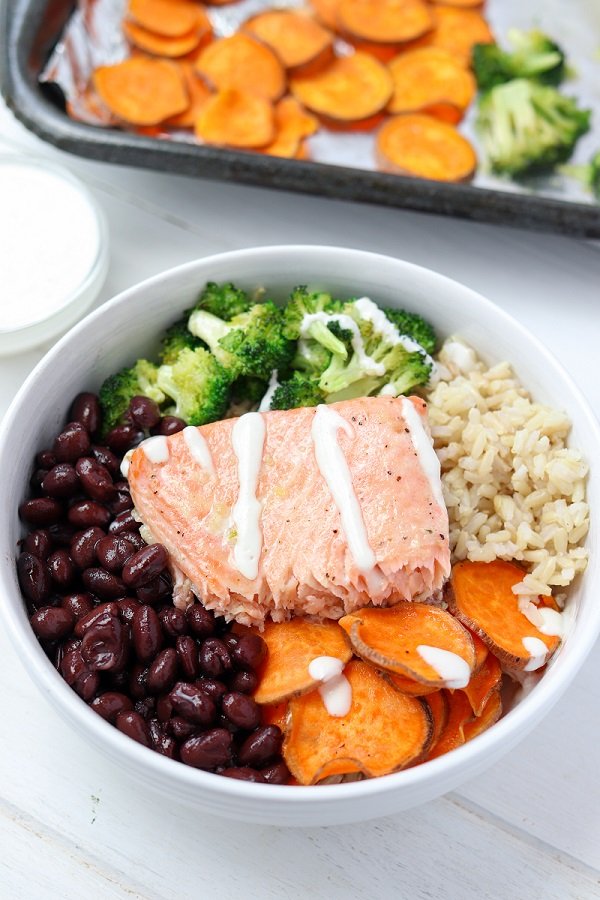 Have you ever made buddha bowls with fish? I hadn't, but I gotta say it might be my new jam! I love buddha bowls, and I love salmon! So, I thought combining the two in this recipe was a no brainer. It now has me thinking of other seafood buddha bowl options like using shrimp, scallops or crab. But I digress! My buddha bowl love started a while ago!
One of my all-time favorite buddha bowls I ever ordered was in Dublin, Ireland after hiking a trail called Bray to Greystones. My hostel receptionist recommended checking out a place called The Happy Pear, and I'm so glad I took their advice! The Happy Pear has a build your own buddha bowl option, and it didn't disappoint! You can pile on all the toppings to get one nice overflowing buddha bowl!
So, if you aren't in Ireland and able to visit The Happy Pear, I gotchu with today's recipe! These salmon buddha bowls are full of flavor, and I'm sure you're going to love the sweet, savory maple glaze.
Maple Glaze for the Salmon
This maple glaze is made with olive oil, minced garlic, maple syrup, salt and pepper. It's flavorful and coats not only the salmon, but the broccoli and sweet potatoes too. For the sweet potatoes and broccoli, make sure to thinly slice them to help them cook quickly and evenly. The sweet potatoes curl up on the edges when they're just ready for taking out!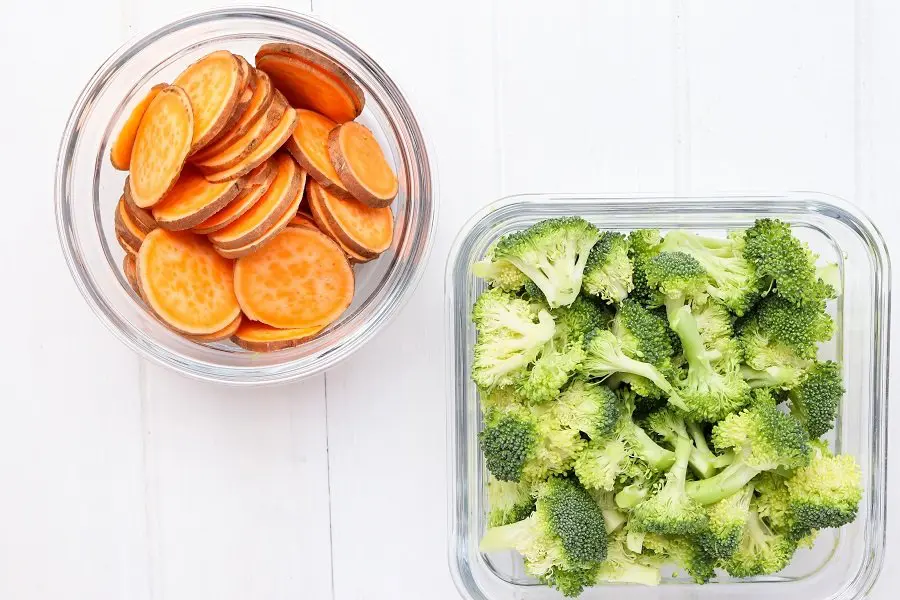 The salmon and veggies need about 30 minutes to marinate to pick up the flavors. While they marinate, I like to get the rice cooking. Once the 30 minutes of marinating are up, broil the salmon and veggies.
Broiling the Salmon
I love broiling because it's quick and you get a nice crispness from the sugars caramelizing. If you're ever in a pinch for dinner, the broiler is your BFF!
Cooking time will vary depending on how close you place the salmon and veggies to the broiler. The closer to the broiler the faster you'll see the outside of the salmon caramelize. However, the inside might be a bit pink. So if you prefer your salmon cooked on the rare side, this is the way to go.
However, I'm more of medium to well-done/cook it until the internal temperature reaches safety recommendations kinda person lol If you're wondering what the recommended internal cooking temp of fish is, let me tell ya! It's 145 degrees Fahrenheit at the thickest part of the fillet. You'll know the salmon is done cooking when the flesh flakes off cutting into it and isn't raw pink on the inside. I place the salmon 6 inches from the broiler, and it takes between 10-15 minutes for it to cook.
Do you Leave the Oven Door Open or Closed When Broiling?
What do you do when you broil? I assumed everyone broils with the oven door slightly ajar to prevent the oven from overheating and shutting off. This is what I saw growing up, and from what I read on the internet, it sounds like most people thought the same thing!
The first time I cooked this salmon it took forever to cook.....about 30 minutes! Because I had the oven door slightly open. So, I gave this a quick google search. Turns out most people say electric ovens are supposed to be left slightly open when broiling and gas ovens are supposed to stay closed.
We have an electric oven, so you'd think we should keep the door slightly open. But I decided to check the manual. Turns out the manual says to always keep the oven door shut when broiling. Say what! No wonder it took 30 minutes for the salmon to cook last time.
These food pictures were taken back when the I cooked the salmon with the door slightly open, which is why you don't see the caramelized, crispy goodness. I may retake the pictures in the future, but for now they do the job!
Broiling Tips
When putting the fish and veggies on the baking sheets, pour the remaining marinade over the fish and veggies, but not to the point you got a swimming pool on your baking sheet. The oven gets around 500 degrees and that oil will be poppin' when you're ready to take it out of the oven and could dance its way to your arm! I may have learned this from experience lol
Also, since the leftover marinade will be poppin', it'll caramelize onto the baking pan.....unless you put foil under your salmon and veggies aka easy clean up and less scrubbing!
Putting the fish and veggies on separate baking sheets is helpful too. Since the veggies will be done sooner than the salmon, you'll be able to take the veggie pan out without having to scoop them off the salmon pan. But no problem if you only have one baking pan! Just scoop the veggies off the pan and return the salmon to the oven.
If you'd rather not broil your salmon, you can cook bake it in the oven. Whatever floats your boat!
Making the Salmon Buddha Bowls
I added rice, beans and roasted broccoli and sweet potatoes. However, adjust the salmon buddha bowl toppings to your own favorites! You can try regular potatoes, other veggies, bean sprouts, avocado and just about anything else!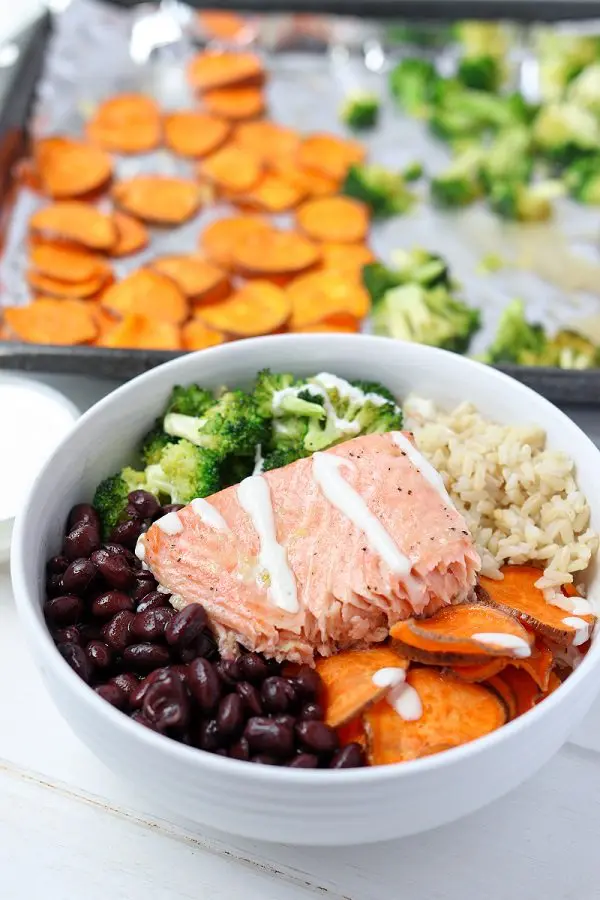 Maple Tahini Sauce
In my opinion, a buddha bowl always need a dressing or sauce of some sort. I made my usual creamy tahini sauce, which is made with Greek yogurt, lemon juice, fresh garlic and salt but added maple syrup for sweetness. The result was delish! The sauce compliments the maple glazed salmon so well and adds flavor to the rice, so definitely don't forget to top your bowl with this buddha bowl tahini dressing!
Meal Prep These Buddha Bowls
These salmon buddha bowls are super easy to meal prep for the week ahead! If needed, double the recipe and store each buddha bowl ingredient (rice, beans, roasted sweet potatoes and broccoli, and salmon) in its own container.
The maple tahini dressing can be eaten for up to a week. If you don't use it all on the buddha bowls, try it as a veggie dip, sandwich spread or dip for my Mediterranean French Fries aka za'atar fries. It'll thicken up after sitting for a while, especially after chilling in the refrigerator. Just add a dash of water and stir to get the thinner consistency again when you're ready to use it in the future.
Conclusion
Hope you enjoyed reading about my broiler lessons and love for buddha bowls! Hopefully, you learned something from my mistakes and feel excited to whip up these salmon buddha bowls! Broiling is truly one of my favorite ways to cook when I need something in a pinch. To me, it's as close as you can get to grilling with an oven - enjoy!
Maple Glazed Salmon Buddha Bowl
Buddha bowls are all the rage and for good reason! They're easy to make, full of nutrition, filling and satisfying. Create a buddha bowl with salmon, broccoli, beans and rice all topped with a maple tahini sauce for a delicious gluten-free lunch or dinner on the go!
Print
Pin
Rate
Ingredients
Maple Glazed Salmon Buddha Bowl
1

pound

salmon

1

cup

dry rice

1

15oz

can black beans

3

cups

thinly sliced broccoli

1.5

cups

thinly sliced sweet potatoes

½

cup

olive oil

¼

cup

maple syrup

2

cloves

minced garlic

¼

teaspoon

salt

⅛

teaspoon

ground pepper
Maple Tahini Sauce
½

cup

Greek yogurt

¼

cup

tahini

1

tablespoon

maple syrup

1

tablespoon

lemon juice

1

clove

minced garlic

¼

teaspoon

salt
Instructions
Maple Glazed Salmon Buddha Bowl
Thinly slice the broccoli and sweet potatoes so that they're uniform in thickness to cook evenly.

Whisk together the olive oil, maple syrup, minced garlic, salt and pepper.

Pour ½ cup of the marinade over the veggies and ¼ cup of the marinade over the salmon. Allow the fish and veggies to marinate in the refrigerator for 30 minutes.

Start cooking 1 cup dry rice according to package instructions.

Preheat the broiler on high.

Line two baking pans with foil and spread the veggies on one pan and the salmon (skin side down) on the other.

Place the baking pans 6 inches from the broiler and broil the fish for 10-15 minutes and the vegetables for 8-10 minutes.

Cook until the fish is caramelized on top and the flesh flakes off when cut in half at the thickest part or until the internal cooking temperature is 145 degrees Fahrenheit at the thickest part of the fillet. Cook veggies until the sweet potatoes curl on the edges and broccoli crisps up.

To assemble the bowls, add 1 cup cooked rice into a bowl, ½ cup black beans, handful of the sweet potatoes and broccoli, and a 2.5 oz portion of salmon.
Maple Tahini Sauce
In a blender, add the Greek yogurt, tahini, maple syrup, lemon juice, garlic and salt. Blend well and add 1-4 tablespoons water to get the desired consistency.
Notes
Don't pour too much extra marinade onto the salmon or veggie pans. Since the oven is heated to around 500 degrees, the oils will pop and you may get burned. Just a little extra drizzle is good!
Line the baking pans with foil for easier clean-up.
Cooking times will vary depending on how far the salmon and veggies are from the broiler. For more details, please read the blog post.
Nutrition
Calories:
811
kcal
|
Carbohydrates:
74
g
|
Protein:
34
g
|
Fat:
43
g
|
Saturated Fat:
6
g
|
Trans Fat:
1
g
|
Cholesterol:
64
mg
|
Sodium:
411
mg
|
Potassium:
1168
mg
|
Fiber:
5
g
|
Sugar:
19
g
|
Vitamin A:
7558
IU
|
Vitamin C:
65
mg
|
Calcium:
155
mg
|
Iron:
3
mg
(Nutrition values are calculated by third-party software and an estimate that can vary based on product brands and cooking methods.)
If you ever make a recipe, tag me on Instagram @monicanedeff.rdn I love seeing your creations and sharing them with the community! Please comment and give this recipe a star rating if you've made it as it greatly helps support this blog and my small biz, thank you! Happy cooking!