Watermelon Feta Orzo Salad is the perfect vegetarian summer salad! Made with juicy watermelon, feta cheese, arugula and orzo dressed in lemon juice and olive oil. The peppery arugula and zesty lemon along with the sweet melon make this a tasty side dish.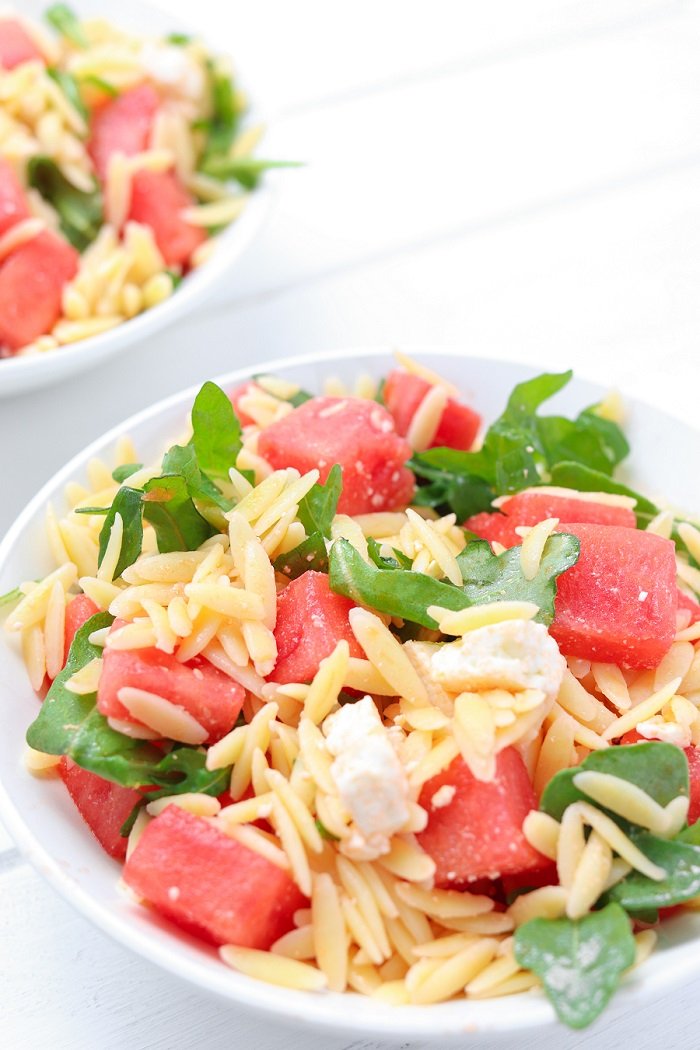 Oh watermelon! One of my favorite summer foods. It's so sweet, refreshing and hydrating. The easiest summer cookout food. I think we all have fond memories of biting into a slice of watermelon as a kid at a picnic or cookout.
Fun fact: Did you know watermelons are 92% water? Isn't that incredible!
During those hot summer months, watermelons are perfect for satisfying our sweet tooth and also quenching our thirst. However, they don't have much protein or fiber to help keep us full.
Incorporating watermelon into dishes helps add the other macronutrients like fat, protein and carbohydrate so that the dish is more filling. I've seen a ton of watermelon basil or mint feta recipes, but I wanted to put my own spin on it.
This watermelon salad recipe's base is orzo. Adding in feta and arugula complete it to that it's a side dish that has substance to help keep you full.
What is Orzo?
Ever wonder what this small, oval shaped noddle looking thing really is? A grain or maybe pasta? Well, if you guessed pasta, you're right! Orzo is made from semolina flour, which is formed from ground durum wheat.
Orzo is used in a lot of Mediterranean meals like salads, soups, casseroles and other pasta dishes!
Is Orzo Gluten-Free?
You'll find gluten in wheat, barley and malt. Since orzo is derived from wheat (durum wheat), orzo isn't gluten-free.
If you are unable to eat gluten, you could substitute pasta noodles made from beans, peas, corn, lentils or potatoes for the closest texture of orzo. Other gluten-free options include quinoa and amaranth.
Watermelon Feta Orzo Salad Recipe
Start by cooking the orzo according to the package's instructions. Drain the pasta well after cooking and allow it to cool before adding the lemon juice and oil. Then chill the lemony orzo in the refrigerator while you get the other fixings ready!
Chop up the watermelon! I like to do small bite size squares so the salad doesn't need a knife. Measure out your arugula and pack it into the measuring cup to make sure you get enough.
Add the watermelon, arugula and feta cheese to the chilled orzo and mix well. The longer this salad sits, the more flavorful it gets!
Got a favorite summer salad or way to eat watermelon? Share it below! There are 101 different recipes with watermelon these days…..watermelon slushies, popsicles, soup – you name it!
Watermelon Feta Orzo Salad
Watermelon Feta Orzo Salad is topped with arugula & a zesty Italian herb vinaigrette, making this the perfect vegetarian summer salad!
Ingredients
1

cup

dry orzo

2.5

cups

chopped seedless watermelon

1.5

cups

arugula

2/3

cup

crumbled feta cheese

2

tablespoons

olive oil

2

tablespoons

lemon juice
Instructions
Cook 1 cup orzo according to package instructions. Once done cooking, drain and allow to cool.

Add the olive oil and lemon juice to the cooled orzo and refigerate until chilled.

Once the orzo is chilled, add the chopped watermelon, arugula and feta cheese.
Notes
The longer the salad sits, the more noticeable the flavors will be.
I don't add additional salt because the cooking instructions for the orzo required heavily salted water. However, if your orzo didn't require salted water than salt to taste.
If you ever make a recipe, tag me on Instagram @monicanedeff.rdn I love seeing your creations and sharing them with the community! Please comment and give this recipe a star rating if you've made it as it greatly helps support this blog and my small biz, thank you! Happy cooking!