Tzatziki is something I grew up loving by the spoonful! I never needed pita bread to dip in it because it was that good!
This recipe is my take on tzatziki. I keep it super minimal and authentic. A lot of recipes will use sour cream or lemon juice and while they absolutely work, I want this recipe to be one that's similar to what you might find if you were traveling along the Mediterranean.
If you've never had authentic tzatziki, get ready to make yourself a batch because it's hard to go back to non-traditional tzatziki once you've had the real deal!
Authentic Tzatziki
So, what makes tzatziki authentic?
The yogurt: Use full-fat Greek yogurt. The fat is key to getting the creaminess in the dip. Traditional recipes will use strained sheep or goat milk.
The acidic component: Traditional tzatziki uses red wine vinegar and adds the perfect amount of tart yet sweetness to it.
Dill or Mint: Some recipes use mint. I prefer dill but try both and see which you like better!
Olive Oil: A good quality olive oil can make all the difference!
Garlic: Garlic is always a must in Mediterranean cooking and tzatziki is no exception. If you're not a big garlic fan, I'd cut the amount in half.
Salt: Go by taste. It will help enhance all the flavors.
In Greece, it was often served with kalamata olives and a block of the most delicious feta cheese!
How to Make Tzatziki
Start by peeling the cucumber. I will usually use an English cucumber since it has very small seeds and a thin peel.
Once you peel the cucumber, you'll want to grate it into thin pieces. I use the smallest grater option.
Grate the cucumber into a bowl or into a strainer. Next, you want to squeeze as much water out as possible.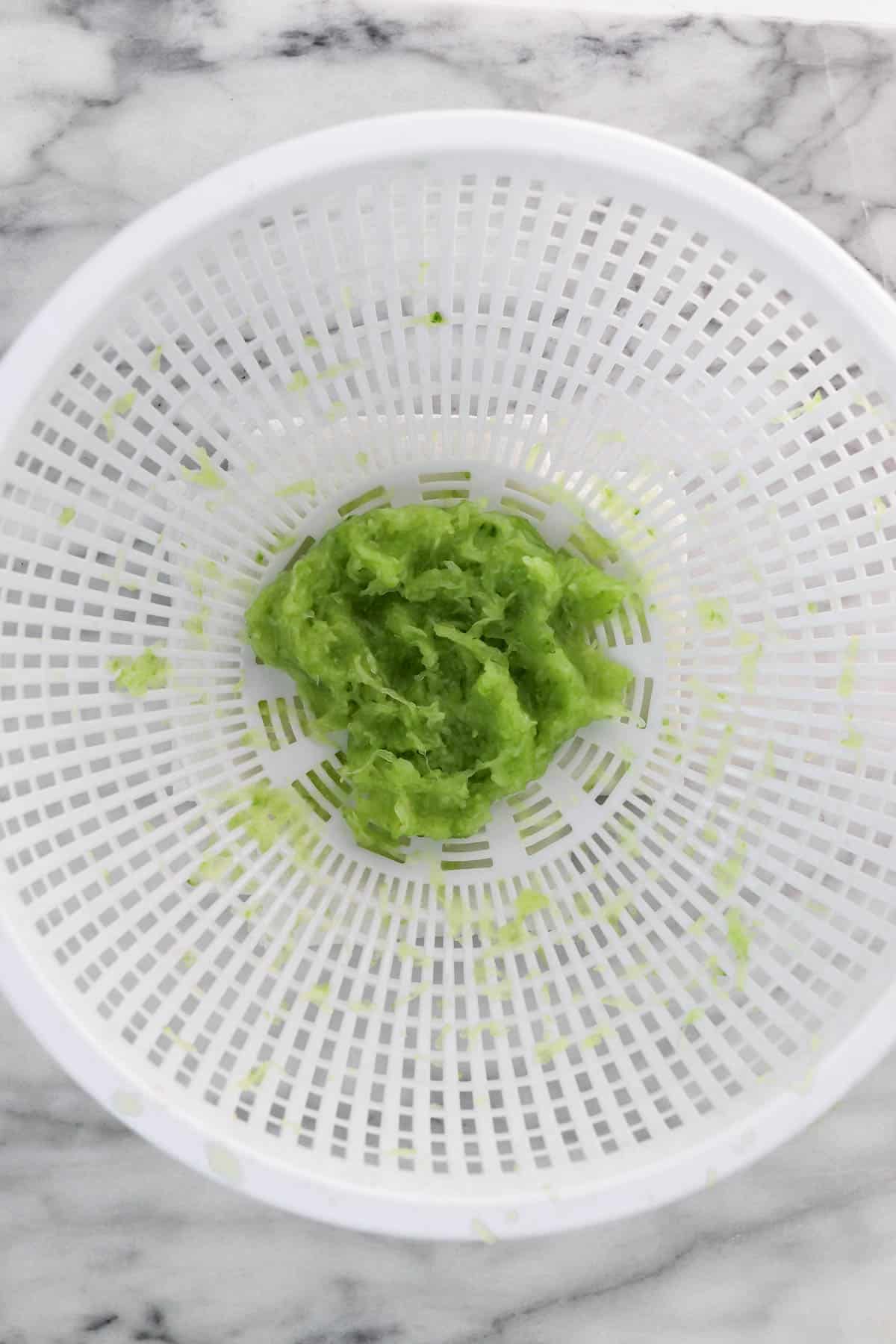 This is one of the key parts of the recipe. You want to remove as much water as possible so that your yogurt dip is thick and not a thin watery consistency.
Once you've squeezed out as much water as you can, add a heavy pinch of salt. The salt will attract water out of the cucumber by osmosis.
Let the cucumber sit in the colander and give it around 20 minutes to allow the salt to work before squeezing the remaining water.
While the salted cucumber sits, I like to mix the remaining ingredients, except the salt. I add salt last and go by taste.
Let the tzatziki sit in the refrigerator for an hour before serving so that the flavors marinate together and enjoy!
Storage Tips
Tzatziki will last for up to a week after it's prepared in the refrigerator.
While you can freeze tzatziki, I wouldn't recommend it. The texture won't be as smooth once it defrosts.
How to Use Greek Yogurt Dip
Usually, we think of using tzatziki for veggies and pita bread but there are so many other ways!
Try using it as a sandwich spread - a great alternative for hummus or mayo or mustard.
Use it in a pita pocket for a sandwich or dip your fries in it.
Use tzatziki as a dip for grilled or baked meats - chicken or beef are great options. Tzatziki is often used to dip kibbeh (Middle Eastern ground beef or lamb dish).
Other Uses for Greek Yogurt
You can make the popular 2 ingredient bagels with Greek yogurt. Use zatar for a Mediterranean spin on them!
Use Greek yogurt whenever you would traditionally use sour cream - it's a great alternative and has the same creamy, sour taste.
I love using it in baking. The acidic component of Greek yogurt can help activate baking soda. You'll see it used in a lot of muffin, bread and cake recipes.
You can even use it in desserts like mousse. Try my Chocolate Mousse Recipe for a healthier spin-off of that uses Greek yogurt, cinnamon, rich dark chocolate and a secret ingredient!
More Mediterranean Recipes
If you love Mediterranean recipes, try my Greek Turkey Burgers that use tzatziki on them. They're a reader favorite and absolutely delish!
For a side dish, try my Mediterranean Farro Salad. Farro is a hearty ancient grain high in fiber and protein. Or go for my Mediterranean Bean Salad for a flavorful and high-fiber side dish.
Recipe Tips and FAQs
Can I use dried dill?
It will not have the same flavor. I would recommend only using fresh dill.
I don't have red wine vinegar. What can I substitute for it?
You could use white vinegar or lemon juice.
Do I need to remove the seeds in the cucumber?
No, you don't need to deseed the cucumber. I would recommend using an English cucumber since the seeds are very, very small and the peel is thin and easy to peel off.
The Best Tzatziki
Tzatziki is a delicious salted cucumber and creamy dill yogurt dip. This authentic recipe is made with only 7 ingredients and is super easy to make! Use tzatziki not only for a delicious veggie and pita dip but as a sandwich spread or dip for grilled meats.
Print
Pin
Rate
Ingredients
1

cucumber

(peeled and grated (preferably English cucumber))

2.5

cups

plain full-fat Greek yogurt

3

tablespoons

chopped fresh dill

3

tablespoons

olive oil

2-3

cloves minced garlic

1.5

tablespoons

red wine vinegar

¼

teaspoon

salt

(or to taste)
Instructions
Start by peeling the cucumber. Then using a grater, grate the cucumber into a colander.

Squeeze as much water as you can out of the cucumber and then add a heavy pinch of salt (around ⅛ teaspoon to ¼ teaspoon). Mix the salt into the grated cucumber and then allow it to rest for 20 minutes.

As the cucumber sits, add the Greek yogurt, dill, olive oil, minced garlic and red wine vinegar to a bowl. Mix well and set aside.

Once the 20 minutes have gone by squeeze as much water as you can out of the cucumber before transferring it to the bowl with the rest of the ingredients and mix well.

Add the salt last and go by taste. I usually add around ¼ teaspoon.

Mix well and refrigerate 1 hour before serving.

For serving, I love to drizzle a little bit of olive oil on top and garnish with dill. In Greece, it was served with kalamata olives and a block of feta cheese!
Notes
Substitutions:

For red wine vinegar: substitute lemon juice or white vinegar
For dill: try substituting mint

Recommendations

Let the tzatziki sit for a bit before serving. The flavors become more enhanced with time.
I highly suggest using an English cucumber since it has a thin peel and small seeds.
This recipe is heavy on garlic! If you aren't a big garlic fan, I'd reduce it to 1 clove.
Make sure you get yogurt that has very little water. I love FAGE's whole milk Greek yogurt since most of the water is strained off it well. Otherwise, you can use a cheesecloth to help remove excess moisture from the yogurt.
Nutrition
Calories:
61
kcal
|
Carbohydrates:
2
g
|
Protein:
4
g
|
Fat:
4
g
|
Saturated Fat:
1
g
|
Polyunsaturated Fat:
0.4
g
|
Monounsaturated Fat:
3
g
|
Trans Fat:
0.003
g
|
Cholesterol:
2
mg
|
Sodium:
64
mg
|
Potassium:
96
mg
|
Fiber:
0.2
g
|
Sugar:
2
g
|
Vitamin A:
27
IU
|
Vitamin C:
1
mg
|
Calcium:
51
mg
|
Iron:
0.1
mg
(Nutrition values are calculated by third-party software and an estimate that can vary based on product brands and cooking methods.)